Mike Barcik - A Stellar Advocate for the Georgia Energy Code
Last night down at the Brick Store Pub, I ran into someone I know from the gym, and, as it turns out, he lives on Drexel Avenue. Naturally, I asked, 'Do you know Mike Barcik?' Of course, he did. Everyone, it seems, knows Mike. Some of you may know where I'm going with this. For those who don't, let me explain.
Last week I wrote about the new Georgia state energy code and mentioned that Georgia is the first state in the US to make Blower Door testing of all new homes mandatory. You can thank Mike Barcik, Director of Technical Services at Southface Energy Institute, for that.
In early 2010 when the Georgia 2009 IECC Task Force was meeting to decide what would and would not be included in the state's new energy code, Mike, as a member of the task force, decided to push for one method only of demonstrating compliance with the 2009 International Energy Conservation Code - Blower Door testing. He put together a survey and distributed it to as many people as he and his Southface team could reach. If you own a Blower Door and use it in Georgia, you probably heard from them.
The purpose of the survey was to show that the cost to builders of having someone come in and test their homes for air-tightness would not be much of a burden. I don't remember the exact results, but I think he told me that the average cost came in at about $75 per home. I thought surely it wouldn't fly, but Mike pulled it off, and we have a precedent setting state energy code as a result.
In case you don't know who Mike is, let me tell you a

little about him. In addition to the influence he wields on the Georgia energy code, he's also one of the pioneers in HERS rater training. He's been teaching the HERS rater class for over ten years now, and I had the privilege of being his co-instructor for two and a half years.
Because he's been teaching so long, many of the HERS trainers now teaching classes across the country first learned how to do home energy ratings from him. If you took a Southface HERS class, you undoubtedly remember Mike for his energy, his enthusiasm, his infectious smile, his jokes, and his genuine concern for you as a person.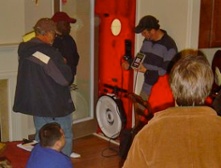 Standing next to him may have been Mike A., Howard, Mark, Laura, Abe, or me, but Mike was clearly THE MAN.
Mike was my instructor when I took the HERS rater class in 2003. I learned more from him as a fellow Southface employee when I was the regional manager for the EarthCraft House program. When I left Southface in 2008 and they had me come back and teach the HERS training class with him for two more years, I got my best teaching from Mike. 
Mike's done an amazing job in both of these areas, Georgia energy code and HERS rater training. That would be plenty for most people, but, incredibly, he splits his time between residential and commercial work, doing HERS and LEED training classes, as well as EarthCraft House builder trainings. And he still finds time for his family.
Let me give you a little heads-up here, too. If anyone ever holds a roast for Mike, make sure you get tickets. I guarantee you'll hear some interesting stories. Mike is one of those people who lights up a room as soon as he walks in. He's a life-of-the-party guy.
In short, Mike is awesome! I salute him for getting the Blower Door requirement into the Georgia energy code and for all the lives he's touched and for all he's done to improve the energy efficiency of buildings not only in Georgia but in the entire US.
Subscribe to the Energy Vanguard Blog
The Latest from the Energy Vanguard Blog