The 2011 RESNET Building Performance Conference Rocked!
OK, I'll admit it. The highlight of my week at the 2011 RESNET Building Performance Conference was getting to meet The Energy Avenger. I've been showing a video of him teaching people how to wrap a water heater for years, but this was real. I met The Energy Avenger in the flesh. No one knows his real identity (wink wink), but he seems to hang out with the EnergyLogic crew a whole lot.
The rest of the conference was pretty good, too. I was at the Energy Vanguard booth at the trade show all week. We talked to a lot of great people throughout the conference and look forward to keeping in touch with the new friends we made. Being right next to the food and drink tables, we had our own hospitality suite.
In addition, we were right next to Peter Troast and Lisa Fahay of Energy Circle and right behind Jason Payne and Meredith Roedel of EEM Training. Great folks! We had a lot of fun there, chatting, juggling, giving away tootsie rolls, and giving away copies of our ENERGY STAR Version 3 white paper. It was great also to meet a lot of my virtual friends IRL (in real life) for the first time.
As far as the core content of the conference, the sessions, I gave two talks myself. One was on HERS rater training with Scott Doyle and Matt Thornberry of EnergyLogic. We discussed the limitations of the 5 day format and what each of our organizations is doing to get around it. (You can download our presentation from the RESNET website.)
My other talk was on Improving a House with an Energy Efficient Mortgage. Jason Payne of EEM Training was the main presenter here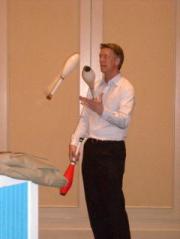 because he's really figured out how to make these things work. If you'd like to make money with a product that is most often described as a no-brainer, talk to Jason and take one of his classes. He's the man! We gave a webinar on EEM's in January, which was slightly different from the talk we gave at RESNET. You can download the webinar slides or get our RESNET conference presentation - or both!
When I wasn't speaking or manning our booth, I mainly went to sessions on RESNET Quality Assurance (QA) procedures and the HERS trainer and QA Designee (QAD) roundtables I need to maintain my certification in those areas. The various RESNET committees have been working hard to keep up with the ever-changing climate in the HERS industry, so I have to go to these keep up with the vigorous pace they set. The big topics in these sessions were the much more stringent QA standards, including getting rid of the low-volume HERS rater exemption, and the increasing requirements to maintain trainer and QAD status.
There were many other good sessions for raters throughout the conference, and we'll be writing about some of them, especially those related to Version 3 of the ENERGY STAR homes program and the Designed to Earn the ENERGY STAR program.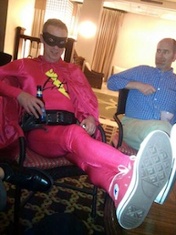 Overall, it was a wonderful conference. The field of home energy auditing and rating is changing and growing rapidly. The changes don't always happen the way we'd like, but it's definitely an exciting time to be in this field. One of the most exciting aspects of it to me is the use of social media (Twitter, LinkedIn, Facebook...) to spread awareness and create business. To have a company like Energy Circle, which lives at the intersection of home energy efficiency, IT, marketing, and social media, at the RESNET conference is a good indicator that things are changing.
On the last night of the conference, we went out to dinner with Peter Troast and Amanda Evans (photo below), two social media technorati with whom I'll be doing the Social Media Boot Camp at the ACI conference at the end of this month. If you missed out on the RESNET conference, you still have time to sign up for ACI, so do it now!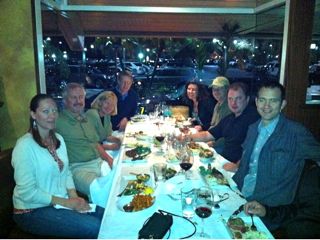 Photo of Energy Avenger in repose by Stephen Davis, @EFL_Guy on Twitter.
Subscribe to the Energy Vanguard Blog
The Latest from the Energy Vanguard Blog