If You Think ENERGY STAR Version 3 Is Hard...
Version 4 of the ENERGY STAR New Homes program is set to be released in 2016, with a transition program already available. I learned at the 2011 RESNET Building Performance Conference that took place in Orlando, Florida, last week.
Version 3 is not set to go in to effect until January 2012, with training for HERS raters beginning the second half of this month. Training for builders and HVAC contractors is already available at www.energystar.gov and www.acca.com.
Here are a couple of sources that review the changes that are being made to the program with Version 3:
At the RESNET conference, a handful of sessions discussed how to prepare for the transition, as well as dispelling the myths that it will be impossible. In general, the sessions were packed! Everyone is anxious to get insight on how to deal with the changes. The majority of raters that we have talked with fear that they won't be able to increase their fees enough to cover the time it will take to incorporate the new requirements.
When you look at what other countries, like Canada, most of Europe, California, and Florida are doing, we are behind the 8-ball! Canada has adopted their own version of ENERGY STAR and requires a HERS Index in the mid 40s, whereas EPA's new Version 3  brings the HERS Index down into the 70s (on average, in IECC climate zones 2-4). In Denmark, all new buildings will be required to meet Passive House (known as PassivHaus in Europe) levels in 5 years. Meanwhile, we're still learning that Passive House does not mean Passive Solar.
I think it's time we buck up. My hope is that competition will spark existing ENERGY STAR Partners to stay on board, and for new ones to join. I would rather see this happen out of pure motivation to make all buildings super energy efficient, rather than through competition, but I'll take what I can get.
ENERGY STAR Concept Home: The Road to Net-Zero

As I mentioned above, Version 3 of the ENERGY STAR new homes program will be mandatory starting January 2012. At the conference, Sam Rashkin introduced us to the new 'voluntary' program (still in pilot) called the ENERGY STAR Concept Home Program: The Path to Net-Zero.
Sam Rashkin started the session by answering the question, "If ENERGY STAR new homes is the answer, what's the problem?" Essentially, the answers lie in the quality of design and construction, and the lack of attention to details in both. Homes are being built with too many defects in the building envelope and the heating and cooling equipment without recognizing the impact of these defects. Sam identified the biggest problem areas:
Thermal Enclosure Defects
HVAC Quality Installation Defects
Water Management Defects
Version 3 addresses all three of these with its four checklists. Because of this, Sam calls Version 3 "The Complete Building Science Program"
The Concept Home, which I'm calling Version 3.5, is "Version 3 on steroids." It includes everything that is already in Version 3, but adds two mandatory checklists and one voluntary checklist:
Renewable Energy Ready Home Solar Electric Checklist (mandatory)
Renewable Energy Ready Home Solar Thermal Checklist (mandatory)
Renewable Energy Ready Home Passive Solar Checklist (voluntary)
The program will also require a look at advanced design methods, occupant behavior, and renewable power.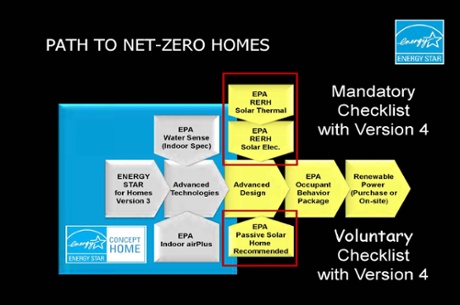 The goal of the program is to produce a home that is 'Net-Zero Ready,' which aims to collectively reduce cooling/heating loads, framing, ductwork, plumbing, HVAC Equipment, waste, construction time by 30%-50%, and reduce callbacks by 70%. Another goal of the program is to prepare the industry for Version 4, where the 'Net-Zero Ready' Home will be the minimum requirement. Net-Zero Ready just means that if you meet the minimum guidelines, you will 'this close' to Net-Zero. To achieve Net-Zero, the home will have to meet the requirements of the voluntary Passive Solar Checklist.
Compared to a home built to the 2009 IECC, the Concept Home will conservatively cost anywhere from $15,000 to $30,000 more. Sam believes that the reality will be half of that. The increased savings, compared to a home built to 2009 IECC, has been estimated at 50%.
The HERS Index for the Concept Home will average (depending on climate zone) around 47, whereas with Version 3, the average is around 72.
Final Note
ENERGY STAR has definitely raised the bar, and it's our responsibility to step up and make it work. Otherwise we'll get left behind, and we'll continue to build homes with mediocre energy efficiency.
Let's do this!
Subscribe to the Energy Vanguard Blog
The Latest from the Energy Vanguard Blog