A Canadian Perspective of the HERS Rating Industry
Today is the last day of the HERS rater class I'm teaching in Toronto. To date, there's just been a handful of people pushing home energy ratings in Canada and sadly, they lost one of the most passionate advocates this year - Bruce Gough, whom I met at my first RESNET conference in 2004.
What I've found here is a group of people who are excited about adopting HERS ratings. Up here in the Great White North, there are a lot of people who have been rating houses for their energy codes and programs like R2000 for a long time. In this class we've been able to go straight to the heart of HERS ratings and jump right over all the basics I have to cover in the States.
Here are a few of the reasons these folks like HERS:
They find the software, REM/Rate, much easier to use than the energy code software they're familiar with here, Hot2000. 
The HERS Index scale makes much more sense to them than their EnerGuide.
The HERS reference home is stable. Evidently, NRCan keeps changing the reference for the EnerGuide.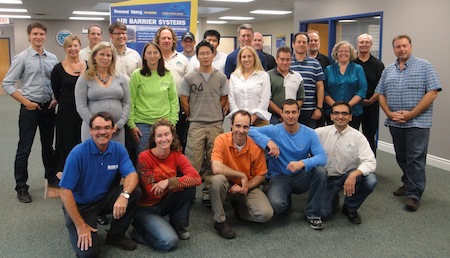 It's been a great group to work with, too. Of course, all my HERS rater classes are great, but it's really nice to travel outside the US and get this kind of reception. When I had them tape down a psychrometric chart (photo at top) on the floor of our training center (generously provided to us by Henry Company, manufacturer of BlueSkin and other building materials), they even Canadianized it, just for me, eh?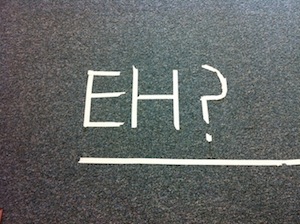 Subscribe to the Energy Vanguard Blog
The Latest from the Energy Vanguard Blog