What's Your Energy Ideology?
We all have beliefs about energy, the economy, and growth. Mostly, we hold the beliefs of the people who influenced us growing up—our family, friends, and teachers—and the media voices we pay attention to. A lot of people don't see them as beliefs but rather as some kind of universal truth because most people believe the same things and they rarely see anyone in their sphere of influence question these beliefs.
I'll take a stab at laying out what most people in the developed world seem to believe:
The economy will continue to grow forever.
Economic growth requires energy, so we must keep pumping more energy into the economy.
When one energy resource can't keep up with demand, we'll find others to take its place.
Can we grow forever?
The first of those beliefs underlies pretty much every economic report that comes out of the government, universities, and the media. The economy must grow! This is a sacred belief. We're hot and heavy in election season in the US now, and all the candidates want to tell us how they'll get the economy growing at a 'healthy' rate again.
But why do we believe this? Is it really a universal truth? Or is it merely ideology? The history of the human race seems to lead us to the conclusion that growth is our destiny. Yes, we've had our temporary setbacks with the collapses of the Roman Empire, the Mayan civilization, and others that didn't make it. The overall trend, though, has been more, more, more. More people. More stuff. More energy.
I guess it's natural to look at that trend and see that it's got to keep going, right? But what if it doesn't? There's no evidence from Nature that it must continue. Plenty of species have come and gone from the Earth, and we'll eventually be gone, too.
What do you believe?
So, what's your energy ideology? The vast majority of our energy now comes from fossil fuels: petroleum, coal, and natural gas. Unless you believe in abiotic oil theories or that there are huge, hidden oil reserves just waiting for us to find, you probably acknowledge that we'll eventually run into the peak of global oil production (if we haven't already). Once we get to the other side of the peak, what happens?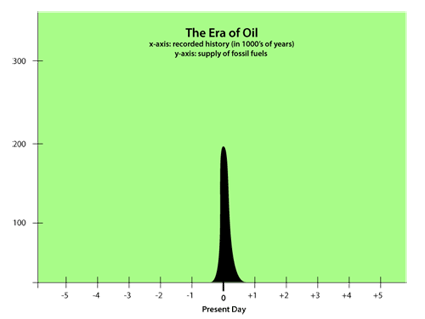 Here are some alternative ideologies, as I see them:
We won't run out of oil because the Earth keeps making more of it. The idea that it's the result of millions of years of heat and pressure acting on the remains of prehistoric plants and animals is wrong.
We've got enough oil to last hundreds or thousands of years. By the time we get to the end of that, we'll have other resources well developed and ready to take over in a smooth transition.
We're nearing peak oil, but we'll have plenty of coal and natural gas to carry us through to the nuclear fusion age.
We're nearing peak oil, and things may be tough for a while, but we'll eventually get back on track and start growing again once we perfect our use of solar energy and other renewable sources.
We're nearing peak oil, and we won't have enough energy to continue on this path of indefinite growth. We may be in for tough times, but if we can find a way to achieve a steady state economy, we'll regain some stability.
We're nearing (or at or past) peak oil, and civilization is about to collapse. 
Whichever of those you believe, it's an ideology. It's not a universal truth. Also, if you notice, there are really two strands of belief in those ideologies. One has to do with energy and the other, growth. If we plot them on a graph, we could place all of the above ideologies on it, as below.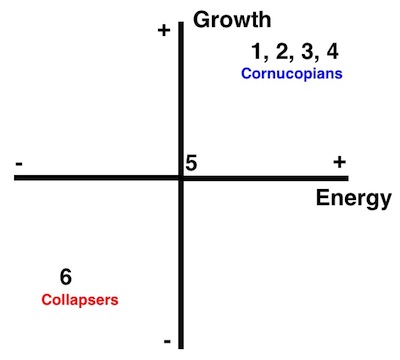 Most people believe in more growth and more energy, a group I've seen called cornucopians for their belief in plenty. I put myself at the origin of the graph in ideology number 5. Because I've been hanging around in peak oil circles for nearly a decade now, I know some serious believers in ideology number 6.
Where are we headed?
As I said last week, my crystal ball doesn't work, so I only do ridiculous, made-up predictions. I like what physicist Neils Bohr said: "Prediction is very difficult, especially about the future." I don't know which way things will go in the future, but I do know that we humans aren't always the most rational creatures.
Right now, our energy future is uncertain and our economy is broken. I think most people can agree with that assessment. Now that the bubble has burst and we recognize that we have problems, we have a golden opportunity to look at what we believe and see if changes are in order. I believe they are.
Maybe this is a physics thing. I've written about Dr. Albert Bartlett and the talk about the end of growth that he's given nearly 2000 times. Yesterday, thanks to Lucas Durand's comment in my first post of 2012, I discovered another physicist who's speaking out on energy and growth. And he's a blogger, too! Dr. Tom Murphy a professor at the University of California in San Diego, and you really should check out his blog, Do the Math. His latest article is called The Future Needs an Attitude Adjustment. Go ahead and read it. I'll wait here.
Related Articles
The End of Growth - Mathematics & Peak Oil
The Optimism of Pessimism in the Age of Peak Oil
Declining Oil Discoveries - The Truth Behind Peak Oil

Photo at top by H!ROK<" target="_blank">Bidrohi >H!ROK< from flickr.com, used under a Creative Commons license.
Subscribe to the Energy Vanguard Blog
The Latest from the Energy Vanguard Blog