Check Out Our RESNET Conference Presentation on Internet Marketing
Did you make it to Austin last week for the RESNET Conference? Did you catch the presentation that I did with Peter Troast of Energy Circle? Whether you did or you didn't, now you can download the pdf version of the presentation. In it you'll find out:
How Energy Vanguard increased website traffic by a factor of 100 in less than two years
What you need to have in your website now
Why you may be losing business if you're not on Google Places
How to generate content for your blog—and what you need to be cautious about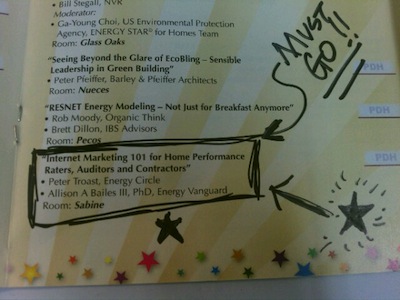 Dang! I sound like some marketing company writing that, but the truth is that we don't make any money selling marketing services. We train HERS Raters and BPI Building Analysts, we're a HERS provider, and we do architectural and HVAC design. I did this presentation because we want the raters who work with us to succeed, and I believe in sharing widely. I guess that's what blogging is all about anyway.
So, go ahead and download the presentation. I'm not trying to sell you anything.

Photo of conference program by Stephen Davis.
Subscribe to the Energy Vanguard Blog
The Latest from the Energy Vanguard Blog