Energy Efficiency Versus Energy Conservation
I recall a lot of talk in the early '90s about the 'peace dividend' and how we'd spend it. This new term entered our lexicon because of the fall of the Soviet Union and the supposed billions of dollars that would be freed up for better uses than the Cold War. It turns out that we never really saw such a 'dividend,' but the concept is an interesting one.
If we look at how we use energy, we can apply a similar term - the efficiency dividend. In the past 30 or 40 years, we've become much more efficient at how we use energy. In transportation, cars that used to get 10 to 20 miles per gallon now get  20 to 30 miles per gallon. We're still using more fuel per person, though, because we drive bigger cars and more miles. In essence, we spent that efficiency dividend on SUVs and suburban houses.
With homes, we've also gotten more energy efficient without conserving energy. The energy we use in our homes, the site energy, has shown a slight downward trend since 1980, as shown below. (All residential data are from the US Energy Information Administration and are for single family, detached homes.) Note that the downward trend here is exaggerated because the vertical axis doesn't start at zero. This energy is the kilowatt-hours of electricity, therms of natural gas, and gallons of fuel oil and propane that we pay for.
When we consider the total amount of energy that goes into our homes, factoring in the energy of the fuel burned at power plants that never makes it to our homes, the trend is flat. Since 1980 our primary energy use has stayed constant, as shown below.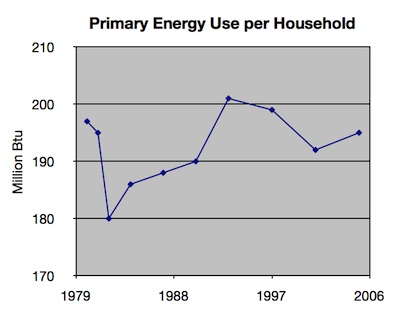 Our homes are much more efficient now, but we've spent the efficiency dividend on bigger houses with fewer people in them. From 1980 to 2005, our homes have gotten 37% larger while we dropped the average number of people per household by 10%. The result is that each person has 53% more conditioned floor area to live in. The table below summarizes the results.
 
 1980
 2005
% Change

Square Feet per Household

2131
2919
  +37
People per Household
  3.0
  2.7
   -10
Square Feet per Person
  702
1071
  +53
When I talk to people about home energy usage, I often explain the difference between energy efficiency and energy conservation. Yes, you can build a 15,000 square foot ENERGY STAR home, and you can reduce the energy usage per square foot down to a small number, but the truth is that you'll still have a lot of energy usage because of all those square feet.
In other words, don't lose sight of the forest for the trees. Home energy efficiency is the trees. Energy conservation is the forest. If you're building a house, build the smallest house you think you can possibly live in. It's still possible to live well in a small house. I'll be discussing some ideas on how to do so in future articles in this blog.
Subscribe to the Energy Vanguard Blog
The Latest from the Energy Vanguard Blog