3 Sources of Heat for High-Performance Homes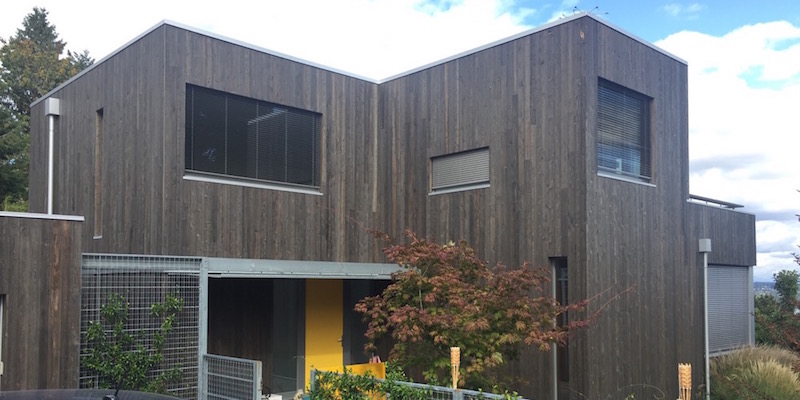 Earlier this week I wrote about the three main sources of heat in homes.  At the end of the article I threw in a fourth one, solar energy, but then I dismissed it as something that people tried in the 1970s and '80s and have since abandoned for home heating.  And that's still mostly true, but my Idahoan friend Skylar Swinford raised a good point on Twitter.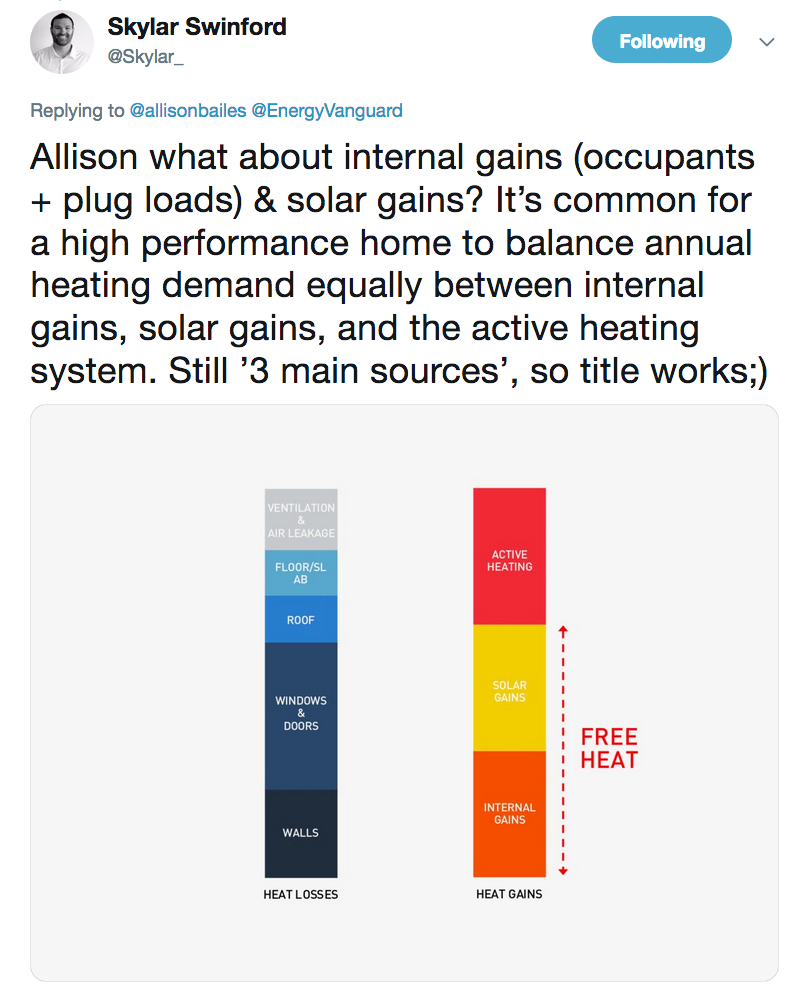 Skylar spends his days modeling Passive House projects and in that world, where you go above and beyond with the building enclosure, internal and solar gains are definitely more of a factor.  Solar gains still have the problem of occurring during the day whereas peak heating loads normally happen in the dark of night, and they can cause problems with overheating if the designer isn't careful.  But internal gains are there for you through the night.
The diagram he posted above isn't from a real house, though.  Typically, Passive House projects still get more than half of their heat from the active heating source, which would be one of the three I discussed in the other article.  Just to spell it out for the people looking for the list here, the three heating sources for high-performance homes are:
Internal gains
Solar gains
This discussion has reminded me of reading Amory Lovins discuss the high-performance home he built in Snowmass, Colorado way back in 1984.  I don't remember which book it was but somewhere he wrote about welcoming people — and their 120 watts* of heat — to his home.  As you build a house that's really good at not losing heat, those internal gains become more and more significant.
Thanks to Skylar for raising this issue on Twitter.  For those of you who don't know Skylar, he was quite a running back on his college football team.  (And yes, he did get the first down on that play.)
* I don't recall exactly what number he used.  It may have been 150 W.
Related Articles
The 3 Main Sources of Home Heating
Converting Heating and Cooling Loads to Air Flow – The Physics
Does More Volume Mean More Heating and Cooling Load?
NOTE: Comments are closed.