Google SketchUp for Home Energy Raters - Measurements Made Easy
Hey, HERS raters, what if I told you that you could get the volume of a multi-pitched roof for all of your home energy ratings without the need to calculate a single algebraic formula? Or, how about wall area? I know, I'm your new best friend, right?
Anyway, with Google SketchUp this is all possible. In fact there are a few more ways to use the program to help you complete all the calculations (e.g. area, volume and perimeter) necessary for a home energy rating, or any energy modeling exercise.
Building 3-D models in SketchUp is fairly simple once you learn a few of their basic shape drawing tools. For example, the model you will see in the following samples took less than a minute to create, and would be based on the take-offs made in the field, or from a set of plans.
Once the model is created, you can start getting the more complicated measurements, such as wall area, window area, and volume. All it takes is selecting the surface that you want and asking the program to calculate the measurement you need.
Here are a few screen shots of what it looks like: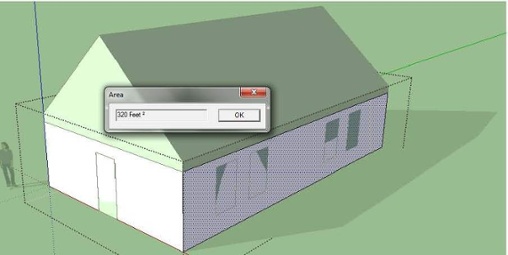 1. Calculating wall area: Select the wall, right click, and then select 'Area>Selection.'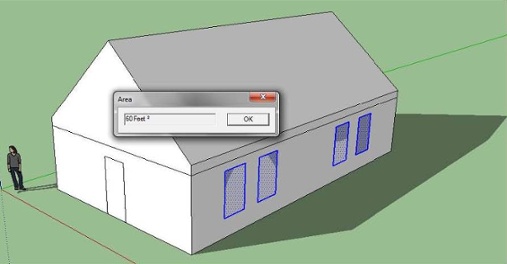 2. Calculating window area: Select all the windows of a certain orientation, right click, and then select 'Area>Selection.'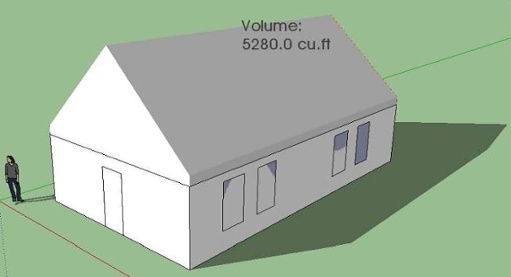 3. Calculating volume: Select the volume part of the home whose volume you want to know (e.g. roof, floor level), right click, and then select 'Volume.' Voila!
Once you've mastered this, which really would take only half a day, you can calculate all of the measurements necessary for a HERS rating in less than 30 minutes, depending on the complexity of the house. In fact, I've been able to do it in less than 5. Of course, this tool also helps with doing Manual J heating and cooling load calculations, which are just another form of energy modeling.
Sketchup is free to download, and the volume tool is an extra Plug-in that needs to be downloaded and installed on your computer.
Subscribe to the Energy Vanguard Blog
The Latest from the Energy Vanguard Blog