Energy Independence Is a Fantasy - Let's Focus on Energy Security
As I sit here on Memorial Day thinking of my cousin Daniel, who was killed in the first Iraq war in 1991, and all the many others who gave their lives in support of the United States, my mind is drawn to the topic of energy independence. It's a popular topic these days, and one that has ramifications for whom we might be remembering on future Memorial Days.
Really, though, energy independence is a fantasy. The world is too interconnected and US oil reserves too depleted for that to happen. Instead, our focus should be on energy security, so this week I'm kicking off a series of articles on that subject. Here are the topics:
Why 'Drill Here, Drill Now' Won't Lead to Energy Independence
Can Hydrogen and Biofuels Save Us?
The Importance of Location Efficiency
Putting Freight Back on the Rails
Going Local
Energy Security at Home
The Myth of Endless Economic Growth
I might change things around a bit or add new topics as I write the articles, but the list above is a good start. So, let's dive in and tackle the first one.
Why 'Drill Here, Drill Now' Won't Lead to Energy Independence
This one's pretty easy. Just look at the graph below, and you'll see everything you need to know about it.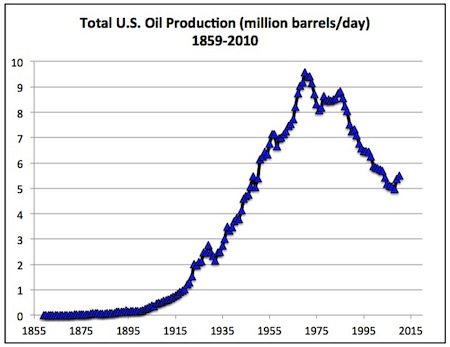 Oil production in the United States is 40 years past its peak, which occurred in 1970 when we hit nearly 10 million barrels per day (mbd). M. King Hubbert, a geophysicist for Shell Oil, actually predicted this peak 14 years earlier. He observed that when a field was first drilled, the output ramped up slowly at first and then increased exponentially with time. At a certain point, the extraction rate began to climb less sharply and then level off, remaining fairly constant for a period. Finally, the extraction rate would decline until the well was essentially dead.
Hubbert studied this pattern intensely and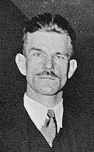 gathered a lot of data. When he plotted the extraction rate versus time for a whole field, the graph appeared bell-shaped, and the peak of extraction occurred when about half of the oil had been pumped out of the field. From then on, the field produced less and less oil each year. Eventually, it was taking almost as much money to keep the oil flowing as the producer was earning, and they would turn off the pumps.
In 1956, Hubbert predicted that the US (excluding Alaska & Hawaii) would reach its peak of oil extraction around 1970. He based his prediction on the extraction rate at the time, the known oil reserves, and the rate of discovery of new reserves, among other things. His colleagues in the industry still believed the party would last forever and ridiculed his idea that our supplies would start to die out. Well, 1970 came and went more than four decades ago, but Hubbert is the name we remember because he was the one who was right, as the graph above shows clearly. 
No matter how much we try to get back to where we were at the peak, it's not going to happen. Yeah, we can reverse the downward trend for a while, as we have the past couple of years, but before long that curve will be heading downward again, even if we open every possible area for drilling that we can. We can chant 'Drill here; Drill now' or 'Drill, baby, drill' all we want. We've squarely confronted the limits of geology here.
And if we could magically drill our way back to 10 mbd...
We'd still only be halfway there because we use about 20 million barrels per day. We import the majority of the oil we use in this country, and that's not going to change by putting every available rig to work drilling for oil in every available place.
That's the thing about flows and growth. Once you hit the peak and emerge onto the downward slope, you're drilling more and discovering less all the time. It's easy to confuse quantities and rates, and this is an area where it happens all the time. Yes, the US has a lot of reserves in the ground. But it's the rate that we can pump it out and bring it to market that matters.
The only reason we're still so dependent on oil this far past our peak is that we turned to imports. Without oil from the rest of the world making up the difference between what we use and what we produce, we'd've had to find another way long ago.
Therein lies the problem. As long as we're so heavily dependent on oil, we're never going to achieve energy independence. It's a fantasy. If we can somehow find a way to match our consumption of oil to what we can produce domestically, then we can talk about energy independence.
Until then, we'd better focus on energy security. This century is not going to be like the last. If we intend to get through The Long Emergency, as James Kunstler calls it, by trying to stay on the same trajectory we've been on since the dawn of the Industrial Revolution, we're doomed to failure. We're in a major transition now, so let's focus on the more realistic goal of energy security and scrap the naive call for energy independence.
Subscribe to the Energy Vanguard Blog
The Latest from the Energy Vanguard Blog