ENERGY STAR Version 3 vs. the HERS Index
I'm not on the board or staff of RESNET or the EPA's ENERGY STAR new homes program, so I'm not privy to the discussions they've been having. It would be interesting to be a fly on the wall at the meetings where those two groups discuss what's happening during the rollout of and transition to ENERGY STAR Version 3. I've noticed an interesting jockeying for position between the two organizations lately.
The ENERGY STAR new homes program has been around since the mid-1990s and is currently undergoing the transition to version 3. In case you haven't heard, version 3 is much more rigorous than version 2. I've been writing about the new requirements here for over a year now, focusing on what's changing and what's going to be difficult. (If you're new to this, download and read my ES V3 white paper.)
Here's the rub, as I see it. The vast majority of HERS raters make their money qualifying homes for the ENERGY STAR new homes program. RESNET, being a good shepherd, wants to keep them working (and yes, has an eye toward self-preservation as well). ENERGY STAR has taken licks from some for being too easy because new home construction practices and building codes have improved. Version 3 takes the program up a few notches.
It seems that RESNET is afraid that the number of HERS ratings will drop a lot if they rely mainly on ENERGY STAR, so they've been out getting builders to sign agreements to have all their homes rated and then marketing the HERS Index. I've gotten quite a few email announcements in recent months about builders doing so. Here's one I got about three weeks ago:
Imery Group, a builder based in Athens, Georgia is committing to have all of their homes rated and marketing their homes' HERS Index.   
 
Imery Group and RESNET have entered into a Memorandum of Understanding (MOU) to work together in promoting improved home energy performance and home energy ratings of new homes. The intent of the MOU is to raise consumers knowledge of new home energy performance by using RESNET's HERS Index. This will clearly differentiate homes built by Lifestyle Homes [editor's note: I think they mean Imergy Group.] and put competitive pressure on the new home industry in the Georgia market to follow suit. It is expected that this agreement will serve as a model to other local and regional builders that would have positive outcomes for consumers, RESNET and the new home industry.
Two years ago, when ENERGY STAR was still vetting the program, I participated in a webinar led by Sam Rashkin (who recently left the EPA for the US Department of Energy). He said at that time that they expected the numbers to go down. The word I'm hearing is that some builders are going to bail when version 3 becomes mandatory (1 January 2012). RESNET is giving builders a way to continue getting a marketing edge without going through all the requirements of ES V3.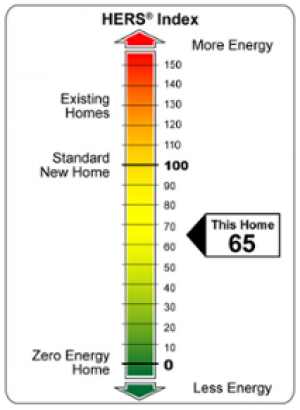 The HERS Index has been an important part of the home energy rating process for years but hasn't been used much as a marketing tool until now, it seems. Based on the technical standards defined by RESNET and produced by the energy modeling software that incorporates those standards, the HERS Index gives an indication of how a rated home compares to the energy code.
To get a HERS Index, the home doesn't have to meet any prescriptive requirements or thresholds for performance. It just has to be rated. That's an easy thing for builders to do.
Qualifying a home for the ENERGY STAR label is not so easy. The home has to pass the items on the checklists (1 for ES V2, 4 for ES V3) and meet all the requirements of the prescriptive or performance path in the program.
If you're a builder, HVAC contractor, HERS rater, or other stakeholder in the new homes industry, what do you think? Will ENERGY STAR surprise everyone and maintain good numbers when V3 becomes mandatory? Will builders opt out and choose to market the HERS Index instead?
Related articles:
ENERGY STAR 2011 - Version 3 of the New Homes Program
ENERGY STAR Version 3 Train-the-Trainer Class - Day 1
ENERGY STAR Version 3 Train-the-Trainer Class - Day 2
The First ENERGY STAR Version 3 Class for HERS Raters
ENERGY STAR Version 3 - A Tool for Transformation in HVAC
Subscribe to the Energy Vanguard Blog
The Latest from the Energy Vanguard Blog