Don't Let the Turkey Get You Down! Carbon Monoxide Alert
I love Thanksgiving! It's my favorite holiday, full of memories of big meals at my grandparents' house in Leesville, Louisiana. We all sat around the big round table made by my grandfather, Allison Sr., ate way too much turkey, stuffing, cranberries, and other goodies, and had, as I recall, some of the funniest dinner table discussions of my youth.
This morning I'm typing this up in a hotel in Tifton, Georgia, as my wife and I drive down to have Thanksgiving with my sisters in Florida. My aunt the artist is also flying in from Dallas to share the holiday with us. It's going to be great!
But my message today isn't about my family Thanksgiving. It's a warning to you about yours. My friend and National Comfort Institute instructor David Richardson, one of the most knowledgeable guys I know on the topic of combustion safety, wrote an article yesterday about the dangers of natural gas ovens. 
I won't recount the whole thing to you. I'll just tell you that these appliances that we depend on so much can be more dangerous than you might suspect. They can produce quite a lot of carbon monoxide, so if you're feeling sleepy after your Thanksgiving turkey, it may not be the tryptophan at work. It could be carbon monoxide poisoning. David said that more than half of the gas ovens that he's tested are outside the acceptable range carbon monoxide production. Go read his article!
If you have a gas oven and are planning to roast the turkey in it, please use lots of ventilation. Run the range hood before, during, and after. Open windows and doors. Don't leave the oven on longer than necessary. Go outside and get some fresh air. Then, as soon as you can after Thanksgiving, call an energy auditor to test it for CO.
Before I wrap this up and get ready to hit the road again, let me take a moment to thank you.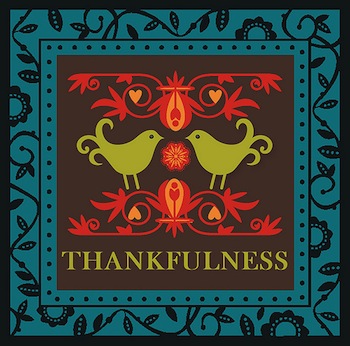 I started the Energy Vanguard blog in March of 2010, so we've been going less than two years now. I've been amazed and pleased by the reception we've gotten and by the tremendous growth in readers, commenters, and subscribers. Thank you so much for taking the time to read our articles. I really, really appreciate it.
To those of you who supported Energy Vanguard during the recent dustup with Guardian Building Products, I offer a special thank you. I'm humbled by all the support we got. Please know that I was in no way using the conflict just to get attention. I realize that having such devoted and supportive readers as we have is an awesome responsibility, and I will always strive to do right by you.
Thank you, all. Have a wonderful Thanksgiving tomorrow!
(And for those of you in other countries, have a wonderful Thursday.)
Photo of turkey in gas oven by hzeller from flickr.com, used under a Creative Commons license.
Thankfulness image by tengrrl from flickr.com, used under a Creative Commons license.
Subscribe to the Energy Vanguard Blog
The Latest from the Energy Vanguard Blog