Taking the Pulse of the Home Energy Pro Community at RESNET 2012
The number of people at the 2012 RESNET Conference was about the same as last year. It's the first time in a few years that it hasn't grown over the previous year's attendance. Does that mean anything? I think so. Here are my thoughts on where we're at in the home energy pro community.
Over the past three years, the conference (and industry) has grown rapidly, fueled largely by ARRA (the Stimulus Act) money that the federal government sent our way. The 2009 conference was especially wild. Barack Obama had just taken office as President, and the industry took off. It also helped that the conference was in New Orleans that year...during Mardi Gras.
That's not a political statement. A lot of people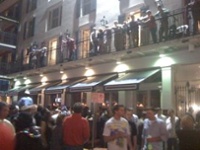 in a down economy were looking for work and saw opportunity in weatherization and home energy retrofits. I was teaching the HERS class at Southface that year, and we had to keep adding classes because the demand went through the roof. The same was true of BPI classes. There was an eight-week backorder on Blower Doors.
In other words, 2009 might be called the year of irrational exuberance in our industry, to borrow Alan Greenspan's term. We had a lot of growing pains that year.
In contrast, my first RESNET Conference in 2004 was a sleepy little affair with probably only 300 people. Those of us who were new to the industry then were wondering why something so great hadn't attracted more attention. Now that 2009 has come and gone, it feels that we're getting back to a more realistic outlook. The ARRA money is drying up, and those of us who are still standing are in it for the long haul. That was also the assessment of Steve Byers, CEO of EnergyLogic and a leader in the industry for longer than I've been here.
Of course, the ENERGY STAR new homes program has been huge for Home Energy Raters, and the folks who run the program were there offering a lot of sessions on Version 3. It remains to be seen whether Version 3 dooms the program or continues to elevate the performance and energy efficiency of homes. I heard more sentiments expressing the former than I did the latter. Although our rating numbers are down right now, we won't really get a clear picture till the end of the year.
I did get the feeling that the HERS community is happy overall with RESNET's pursuit of Memoranda of Understanding with trade partners. There's some suspicion that the organization will weaken its standards to accommodate trade groups like the Pool & Spa Professionals, but at least one person said to me, "It's better to have these groups at the table than fighting us in Congress." These links also spread the word about HERS ratings, which are known by far too few right now.
On the technical side, a lot of good stuff is going on. The conference had great sessions on ventilation, energy modeling, air leakage testing, and more. Unfortunately, I missed some I really would have liked to see because of other sessions I had to attend, but I did get to see the air leakage talk by Colin Genge (founder of Retrotec) and energy modeling talk by Dave Roberts (researcher at NREL). Both were great.
The roundtable sessions for RESNET Quality Assurance Designees and HERS Trainers seemed to be a little less rowdy than the past couple of years. The room seems to get fuller every year, and we all let our frustrations out on whoever has the misfortune of leading those sessions. This year that was Darrel Tenter of Saturn Resource Management and Clinton Heyn of RESNET. A couple of good things came out of those sessions. First, all HERS raters will have to learn combustion safety to get certified by 2014/15. Second, Darrel mentioned a document that I downloaded and have started to read: The Federal Plain Language Guidelines.
One point that becomes clear to me every year at this conference is that Steve Baden, RESNET's executive director, has done an amazing job at keeping this industry going. He's a tireless worker and promoter for Home Energy Raters, and all of us involved with RESNET owe him a huge debt of gratitude. Thanks, Steve!
Finally, someone made the claim in one of the sessions I attended that the HERS industry is mature now. I'd dispute that, but we are a lot closer than we've ever been. We're in a difficult period in history right now, and I feel that the home energy pro industry, led by RESNET and BPI, can be a key to helping us get through it.
See you next month in Baltimore for the Affordable Comfort Conference!
See also:
Passive House Appeals to Home Energy Raters
Subscribe to the Energy Vanguard Blog
The Latest from the Energy Vanguard Blog