Rain Barrels, Chickens, and Walking the Sustainable Living Talk
I write mostly about buildings and the people who fight about them: the crazy things I find, the good things I find, the super-secret Building Science Fight Club, how I don't need no stinkin' Building Science Summer Camp. Just your standard energy geek fare. Occasionally I talk about peak oil and the Long Emergency. Aside from the few articles I've written about the green home I built, with its greywater system, reclaimed materials, and passive solar features, I haven't said much about sustainable living, though.
It's not that I don't believe in sustainability. Well, to be honest, I usually have doubts about anyone who uses the word 'sustainable' too much. If they marry that word to 'growth,' the doubts change to antipathy, and I start gnawing on the nearest sheetrock. Part of the problem is that the word 'sustainable' has become almost as meaningless as 'green' because people use it to mean whatever they want.
Reducing my environmental impact is something that I've strived for pretty much all of my adult life. The only car I've owned that had more than 4 cylinders was the first, and I had it for only 6 months. I lived in Florida for 9 years and almost never slept a night with the AC on. I can't bear to see organic matter or recyclables go into a trash can. Kermit may think it's not easy being green. I think it's not easy not being green. I have to do these things.
Another Allison has me beat on all of this, though. Let me introduce you to Allison Adams, a friend of mine I first met at the Georgia Organics conference in 2005. She lives in Decatur, bicycles and takes public transportation to work frequently, grows organic fruits and vegetables in every spot she can, keeps chickens in her backyard, and uses rainwater from her roof to provide water for all of her gardening.
She also knits, cans, plays music, and forages for wild berries. If you're thinking this sounds like someone right out of the Foxfire books, well...you're right, sort of. She grew up in Rabun County, Georgia and got a chance to write part of those back-to-the-land guidebooks when she was in school there.
The reason I'm writing about her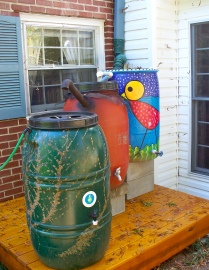 here today is that I just read a wonderful article she wrote for Emory Magazine called Recalculating the Cost of Living. In it, she lays out one of the most cogent rationales for sustainable living that I think I've ever read. I couldn't do it justice if I tried to recount it here, but I will say that she does an amazing job of tying together the social, environmental, and personal factors. She makes it real. She shows that it's attainable. And she does it oh, so eloquently. There's a good reason she's able to make a living writing and editing.
I've been a subscriber to her blog, The Southern Urban Homestead, for a couple of years now, and I love her posts. She's written about many of the topics I mentioned just above (not above above, when I was talking about my stuff, but above - I know it's confusing with two Allisons in the same article). Some are practical, this-is-how-I-did-it articles. Some describe her philosophy of urban homesteading. Some are just fun.
An example of one of her practical articles is Slide Down My Rain Barrel, a description of the evolution of her rainwater catchment system. She originally had four rain barrels that just weren't up to snuff, so she described the solution that allowed her to water her garden only with rainwater all of last year. Just recently, she updated the story with a post about her addition of a solar-powered rain barrel pump.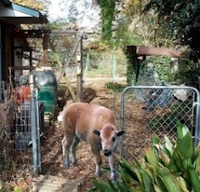 On the fun side, she totally caught me last year with her April Fools' Day article. I love a good April Fools' prank, and my post this year on the new USGBC requirement that LEED-certified homes would have to be all glass was a lot of fun. I heard that I may have even snared a couple of folks at Building Science Corporation. That kind of stuff is in my blood, so you get a lot of points for tripping me up.
Her post was brilliant. She wrote that she was adding to her backyard menagerie. In addition to chickens, she had just recently gotten a bison and was going to lead the new backyard buffalo movement, as she's been a leading proponent of what she calls chicks in the city. Hey, why wouldn't I believe it?! That's exactly the kind of thing she would do!
If you haven't done it yet, you need to get over there and:
Subscribe to The Southern Urban Homestead
Would I steer you wrong? OK, maybe sometimes, but if you subscribe to only one blog, it should be Allison's. And if you subscribe to two, it should be Allison's and Allison's.
Related Articles
The End of Growth - Mathematics & Peak Oil
The Optimism of Pessimism in the Age of Peak Oil
Photos of rain barrels and Nellie Oleson, the backyard bison, used with permission from Allison Adams.

Subscribe to the Energy Vanguard Blog
The Latest from the Energy Vanguard Blog