Can Energy Efficiency Programs Stay Ahead of Energy Codes?
Smart people in the home-building industry have a saying about codes: A code-built house is the worst house allowed by law. The implication behind that statement is that if all you're doing is meeting the code, you're probably short-changing the people who will live in the house. The folks at the International Code Council (ICC) are doing their best to make sure that that barely-legal house is worth living in.
Consider this
If I told you that your new home had to meet the following requirements, would you call that a high-performance home?
Be pretty darn airtight (3 ACH50 for all but the two warmest climates, zones 1 and 2, and 5 ACH50 for them) and be verified with a Blower Door test
Have almost no total duct leakage (4 cfm25 per 100 square feet, the same as ENERGY STAR Version 3 for leakage outside the building envelope), as verified by a duct leakage test
Include a mechanical ventilation system if the airtightness is less than 5 ACH50 (which catches all new homes except those that come in at exactly 5 ACH50 in climate zones 1 and 2)
Increase attic insulation from R-30 to R-38 (climate zones 2 and 3) or R-38 to R49 (climate zones 4 and 5)
Increase above-grade wall insulation from R-13 to R-20 (climate zones 3 and 4)
Insulate above-grade walls to R-20 in the cavities plus R-5 continuous (e.g., 1" XPS foamboard sheathing) or R-13 cavity plus R-10 continuous in the cold climates of zones 6, 7, and 8
Install really good, double-pane, low-e windows
I'd definitely call a home built like that a high-performance home. Those specifications are part of the 2012 International Energy Conservation Code (IECC), which you can read more about in Martin Holladay's 2012 IECC overview. The 2009 IECC was a big step up from 2006, too. When we adopted IECC 2009 here in Georgia, we instituted mandatory airtightness and duct leakage testing, so we're a step ahead on that requirement.
The big question
So, if the energy codes are getting so much better, what will happen with energy efficiency programs like ENERGY STAR? Since the mid-1990s, more than a million new homes have qualified for the ENERGY STAR label. The reason the numbers are so high is that the program set its requirements to an attainable 15% better than the energy code. As the codes get more stringent, ENERGY STAR gets more stringent, and home builders have begun to reassess their priorities.
Is it possible that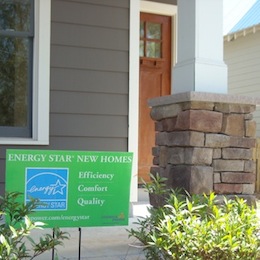 for the many builders who have participated in ENERGY STAR and had their homes labeled with the well-known brand, satisfying the energy code will become sufficient? Will only the extreme programs, like Passive House, survive?
I answer that question with an emphatic NO. It boils down to two words: adoption and enforcement. The IECC is a model code, meaning that it's just a suggestion from the ICC. If no one adopts it, it's meaningless. For those jurisdictions that do adopt it, the code is only as good as its enforcement.
Even if the requirements were exactly the same, I'd take an ENERGY STAR Version 3 home over an IECC 2012 home. The Home Energy Raters who qualify ENERGY STAR homes, on average, have more training, knowledge, and skill in the process of verifying compliance with energy efficiency requirements and in finding building science problems than those who do building inspections for code. They also are subject to quality assurance rules that have someone looking over their shoulder and checking their work.
That's where we are right now anyway. The ICC is pushing hard, and states are getting their acts together. I hope that eventually the people who verify energy codes will have to meet similarly stringent training and quality assurance requirements as HERS raters.
If and when we get to that point, my answer to this big question may change. What do you think?
Related Articles
Mr. Bean Proposes a Radical Change to Energy Codes
Building Codes Assistance Project — Your Source for Energy Code Info
The Groundbreaking New Georgia State Energy Code
ENERGY STAR Version 3 Is Live! Where Are the HVAC Contractors?
Subscribe to the Energy Vanguard Blog
The Latest from the Energy Vanguard Blog