It's Called an Air Conditioner — Not an Air Cooler!
As I sit here on a nice cool May evening, getting ready for my trip to New England tomorrow, I'm thinking about sweat. And that makes me think about air conditioning. It may seem like it doesn't make sense, but when you twist your mind around in just the right way, it does. Really! And what I'm thinking about air conditioning is that maybe we just need to stop talking about how many tons of air conditioning a house needs. Because there's a serious flaw hidden in that kind of talk. Allow me to explain.
See that sweaty back above? She'd benefit from some conditioned air, right? Notice that I didn't say 'cool' air. I said 'conditioned' air. The difference is important. An air conditioner, you see, does two jobs. It reduces the temperature of the air, and it removes moisture from the air. In my part of the world (the southeastern US), that second job happens to be pretty important. For the woman with the sweaty back, it's important, too.
Even though we all acknowledge the importance of an air conditioner's dehumidification capacity, almost no one talks about how much of that capacity their home needs and whether they have the right air conditioner installed to accomplish the job.
First, though, let's get the HVAC lingo right. We don't call an air conditioner's ability to dehumidify its dehumidification capacity. Nope. We call it latent capacity. If you've ever had a chemistry course, you may know why. Remember learning about latent heat of fusion and latent heat of vaporization? Those are the energies associated with phase changes, when a substance changes between a solid and liquid or between a liquid and vapor, respectively.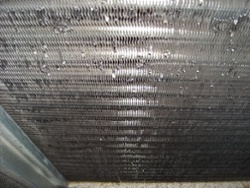 The latent capacity of an air conditioner tells you how much water vapor it can turn into liquid water. It accomplishes that phase change by passing your home's air over the evaporator coil, which happens to be cold enough that it's below the dew point of the air. The photo of the coil above shows this process in action. The cold refrigerant passes through copper tubes connected to the closely spaced aluminum fins you see in the photo.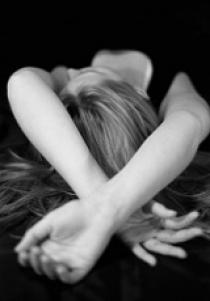 The condensation collects on the fins, drips down to the pan, and is removed from the house when it drains away.
Voilà! The sweat from the woman's back magically evaporates into the home's comfortably dry air, cooling her in the process. The sweat-turned-water vapor then finds the cold coil and turns to liquid again. The beautiful woman is cool and dry now...as long as her air conditioner was sized properly according to both the sensible and latent loads in the house.
So, let's get it right. You don't have a 3 ton air conditioner. You have an air conditioner with a 27,000 Btu/hr (2.25 tons) of sensible capacity (the AC's ability to lower the air temperature) and 9,000 Btu/hr (0.75 ton) of latent capacity. The air conditioner does two jobs, and there are two numbers to describe how well your air conditioner handles them.
Related Articles
The Magic of Cold, Part 1 - How Your Air Conditioner Works
Dew Point — A More Meaningful Measure of Humidity?
Learn the Lingo - Air Conditioning Terminology & Tidbits
Photo at top by kencf0618 from flickr.com, used under a Creative Commons license. Photo at bottom by Katie Tegtmeyer from flickr.com, used under a Creative Commons license.
Subscribe to the Energy Vanguard Blog
The Latest from the Energy Vanguard Blog