Green Curmudgeons, Architects, and Outlawing Batt Insulation
Yesterday I observed an interesting discussion on Twitter. Carl Seville, the Green Building Curmudgeon, posted a link to his article suggesting that maybe we should just ban all batt insulation. Greg La Vardera, an architect who really understands the building envelope, responded that Carl shouldn't lump mineral wool insulation in the same category as fiberglass, referring to his article, What You Don't Know about Mineral Wool Will Make You Look Stupid.
Now, Carl takes his moniker seriously and responded with all his curmudgeonliness. You can tell from the title of Greg's article that he also has strong beliefs. Hey, we don't call it Building Science Fight Club for nothing, you know! My purpose here is not to detail their discussion, though, because you can go to Twitter and read it all there. Their handles are @GreenCurmudgeon and @lamidesign respectively.
I've written my share of articles about batt insulation here—and even gotten in trouble for one of them—and my take has been similar to Carl's. I haven't called for a ban on batts, but the overall installation quality of what I've seen has caused me to recommend sprayed or blown types of insulation over batts most of the time. I wouldn't have a problem putting batt insulation in my own home because I could do it myself or provide enough instruction and supervision to make sure the contractor did it properly, to Grade I installation quality.
Almost all of the batt insulation I've seen installed is made of fiberglass. I've recently seen some mineral wool batt insulation installed, and it's not like the low-density fiberglass batts that get installed in most places. The photo above is of Roxul mineral wool batts in the cavities between floor joists. Notice that there are no steel pins holding it up. It's friction fit and really filling the space with compression or incomplete fill. In that house, it was installed just for soundproofing between the basement and the living space above, and I don't know how well it'd do over the long-term because gravity, although the weakest of the fundamental forces of nature, is quite persistent.
Also, please take a look at Greg's article on mineral wool batts. He shows a lot of great photos of batts being cut accurately with saws and fitted into framing cavities. I really do believe that mineral wool batts aren't in the same category as the standard fiberglass batts that get installed poorly in so many houses.
But let's give some credit to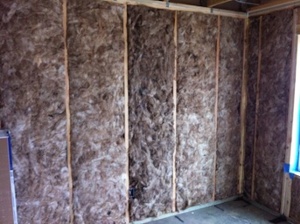 fiberglass, too. I wrote recently about a Grade I fiberglass batt insulation job in Nashville, Tennessee, and the photo at right is from that house. I think that two things can make it easier for fiberglass batts to be installed well, too:
Higher density
No paper facing
The former is happening more and more as codes and energy efficiency programs push builders to look for ways to get more R-value in the same space. The latter is happening because energy codes don't require paper facing in above-grade walls in most climate zones anymore.
Of course, the main thing that needs to happen is training of installers and enforcement by building inspectors. When insulation contractors have better batt products to work with, the training and enforcement parts get easier, too.
So, should batt insulation be outlawed, as Carl asks? My answer is no.
Subscribe to the Energy Vanguard Blog
The Latest from the Energy Vanguard Blog