What Are the Best Green Building Products?
Mirror, mirror, on the wall, what's the greenest product of all? You can find lists of the best green building products all over the web, and many sites update them annually. When looking for hot green building products, you have so many choices:
Photovoltaic system (a.k.a. solar panels)
Geothermal heat pump (more appropriately know as ground source heat pump)
Programmable thermostat
Tankless water heater
Ductless mini-split heat pump
Spray foam insulation
Smart power strip
The list goes on and on, and I've mentioned what are probably the ones that have had the most sex appeal over the past decade. A lot of green homes have the products I listed above. But if you're building a new home, fixing up an existing home, or running a business and trying to be green, where do you start? Although the answer to my question in the title isn't so easy, I do have an easy answer to the this question:
Think systems first, then products!
I've tried to hammer this point home in many, many articles here, but it bears repeating. It's not the product; it's the process! I've seen solar water heaters installed on homes that were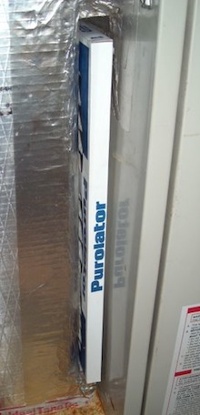 about to fall down, but hey, the homeowner got the tax credit and the solar company made another sale. I've seen 20 SEER air conditioners installed on crappy duct systems that probably negate all the extra efficiency in the box (i.e., the equipment). I've seen spray foam insulation that wasn't installed properly so they homeowners weren't getting anywhere near what they paid for.
If you want green, you've got to look at systems first, then products. Heating and cooling systems, no matter what type, have to be able to deliver the goods, and that means paying as much attention to the distribution system as to the box. Tapping into 'free' solar energy with photovoltaic modules requires making the home energy efficient so you're not just generating energy that gets wasted.
That said, I will give you some specific advice about going green. Here are my top 5 things to consider if you want a green home, or rather, to be green in your home.
Live close to where you work. Location efficiency can be more important than energy efficiency.
Choose a not-so-big house. Sarah Susanka has turned this phrase into a career, and smaller is greener. Also, multifamily housing (condos, townhomes...) is greener than single-family detached housing because you have less building envelope.
Improve the building envelope first. You may decide not to go all the way to Passive House levels of insulation and air-sealing, but you want to minimize the amount of heating and cooling that your home needs. Remember, your building envelope is the cup; the HVAC system is the faucet.
Reduce water usage. Some ways you can do this are with an efficient hot water distribution system, low-flush toilets, and a greywater system.
Take advantage of natural heating and cooling. Design passive solar features into the house to capture the Sun's heat in winter and keep it out in summer. Use cross-ventilation, with help from fans, for cooling.
I'm not saying that products aren't important. I built a green home, and one of the most excruciating aspects of doing it was deciding which products to use. Two great resources for product information are Green Building Advisor and Building Green. I write a weekly article for the former, and they have tons of other good info there. Become a GBA Pro, and you have access to an incredible wealth of product info, green building details, and much more. The latter is Alex Wilson's company, and they publish the ultimate green product directory, GreenSpec.
Get good green products. That's important. But don't waste them by just throwing them at a house and thinking that you'll end up with a green home just because you put solar panels on the roof. Remember:
Think systems first, then products!
Related Articles
A High Performance Home is Defined by the Process, Not the Products
It's Not Just the Box - High Efficiency HVAC Includes the Ducts
More Important than Home Energy Efficiency - Location Efficiency
Subscribe to the Energy Vanguard Blog
The Latest from the Energy Vanguard Blog