Quick Report on the Passive House Conference in Denver
As I sit here getting ready to head for the airport, a lot of thoughts about what I've experienced and heard here at the Passive House conference are swirling around my head. They haven't really congealed into a coherent body yet, but I thought I'd write this quick report of the conference to give you a feel for how it went—and what you missed if you weren't here.
First, the Passive House Institute of the US (PHIUS) folks pulled off a great feat by getting Joe Lstiburek (shown at left) to open the conference and Amory Lovins to close it. Two of my major heros in the energy and building science worlds!
Second, there was a lot of enthusiasm and excitement here. I don't know what the actual number of attendees was but it seemed to be in the 400 to 500 range, and the folks I talked to were all really excited about the program.
Third, there are a lot of smart folks involved with Passive House and they're doing a lot of interesting work. They're trying to figure out how to handle latent loads in Louisiana with a building envelope that makes the sensible loads really small. They're trying to understand what types of ventilation systems make the most sense. They're pushing for PHIUS to adapt the standards to suit our climate zones and issues rather than Europe's.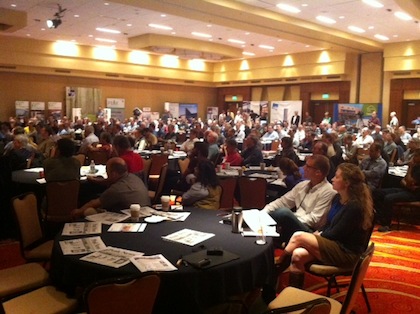 Overall, I came away really impressed by what I saw. I'll write more about this soon, but for now, I'll leave you with Amory Lovins's TED talk on Reinventing Fire, which is the 20 minute version of the 45 minute talk he gave here yesterday.
Subscribe to the Energy Vanguard Blog
The Latest from the Energy Vanguard Blog