Time for a Reality Check on Our 8 Day HERS Rater Training
We've been teaching our Home Energy Rater training class for over two years now. Because I'm like Sweetwater beer, a local favorite here in Atlanta, and "don't float the mainstream," I spread the material of the class out over 8 days. (Well, I don't know that I'm a local favorite, but it's true that I don't float the mainstream.) I announced a couple of months ago, however, that we were putting our class on hold for the rest of the year to re-evaluate how we're offering this training because our enrollment has been low.
Well, life has a way of interrupting plans, and we reopened registration for our November HERS class. Enough people had requested it that it made sense to offer it again in its current format. After this one, though, we really will step back and do a reality check to see if and how we should change the format. I love teaching this class and have a lot of fun with it, but, as Joe might say, I've let it become a boutique program and I want to reach more people.
The reasons I chose to do the class in longer format is that there's a heck of a lot of information and skills for the students to learn and the national HERS rater test isn't so easy for a lot of people. RESNET doesn't publish statistics on it, but my educated guess is that the national average for passing the test on the first attempt is around 60%. That's why we offer three attempts at passing the test for each student in our classes.
Speaking of HERS rater test results, I'll be completely open and tell you how our students have done. Here are the numbers:
Classes
8
Students
42
Attempts
72
Avg. # of attempts
1.7
Passed on 1st attempt     
25
  - Percentage
60%
Passed overall
37
  - Percentage
88%
One thing I believe we've proven is that offering the national rater test three times, as we do, benefits a lot of students who otherwise walk away from their class feeling like a failure. In our case, 28% more students pass by having extra attempts.
Another great thing about doing the class in 8 days is that the new information and skills get internalized better because your brain needs time to process it all. Cramming may work for passing tests, but it doesn't lead to true learning most of the time. We get to spend more time learning, and we do some pretty cool stuff, too. One trademark of the Energy Vanguard HERS rater class is playing Psychrometric Chart Simon Says. It's always fun, and the students have a real feel for this important tool afterward.
By the end of our 8 day class,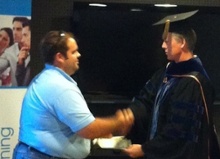 nearly all of our students have successfully completed all requirements for HERS rater training. We've given out training certificates at the end of each class we've taught so they don't have to wait weeks or months to get their results in the mail. For the past couple of classes, we've even added a graduation ceremony. I put on my a cap and gown with my doctoral hood, we play Pomp and Circumstance, and the students get to 'march' to get their 'diplomas.'
What will our future classes look like? I don't know yet. After the November class, which could be our last one in the 8 day format, we're going back to the drawing board to figure out what happens next. I have some ideas about where we're going, but I want to flesh them out before going public with them.
One thing you can be certain of, though, is that our emphasis will always be on helping our students learn and become successful HERS raters.
Related Articles
Home Energy Rater Training - A New Approach
Is the HERS Rater Test Too Difficult?
Creativity, Education, and Green Jobs
How to Choose a HERS Rater Training Class
Subscribe to the Energy Vanguard Blog
The Latest from the Energy Vanguard Blog