An Interesting Way To Freeze Your Air Conditioner Coil
You know how when you change the filter in your air conditioner, it has a little arrow on the edge showing which way the air is supposed to flow through it? What do you think happens if you put it in with the arrow in the wrong direction? And then let it get too dirty? That's what happened with the filter below.
Notice that it's dirty. Notice also that it seems to be a bit lighter in color in the center.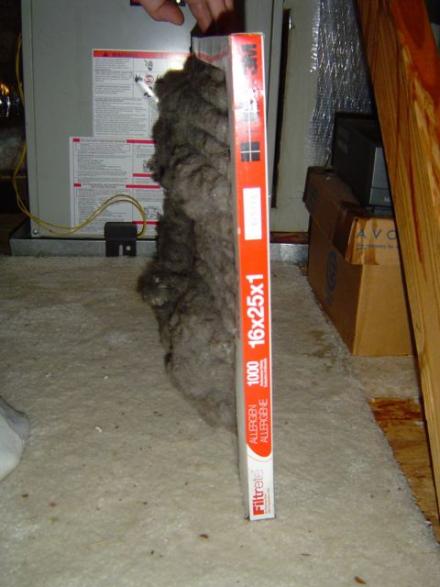 Looking at it from the side (above), you can see that the filter material is blown out. The blower in the air conditioner was trying really hard to pull air through the filter but the static pressure across it was high because of the dirt.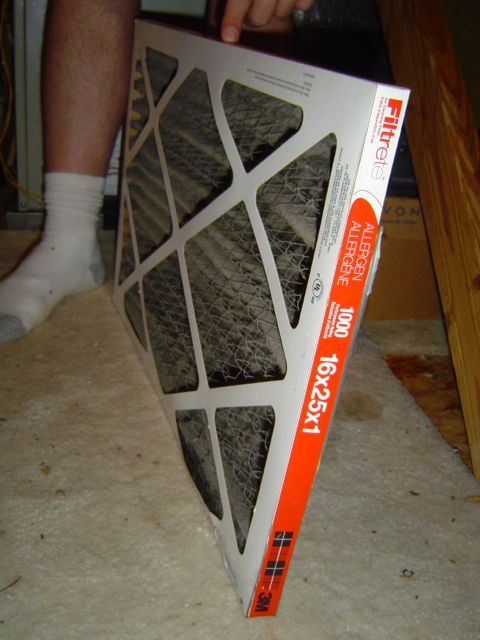 Looking at the other side of the filter, you can see the wire mesh is now separated from the filter fabric. Of course, now it's clear why that wire mesh is there in the first place. It holds the filter fabric in place to keep it from getting sucked into the blower.
What happened here is that the air conditioner pulled so hard on that filter that it sucked big chunks of the dirt and fabric off of the filter. Then it deposited them on the evaporator coil. A while back I wrote about a dirty evaporator coil, and that one had a large accumulation of small stuff.
In either case, the result is that air can't move through the coil very well. The coil gets colder and colder because it's not picking up heat from the house. There's some water there because of the air that does get there. Then the coil turns into a block of ice.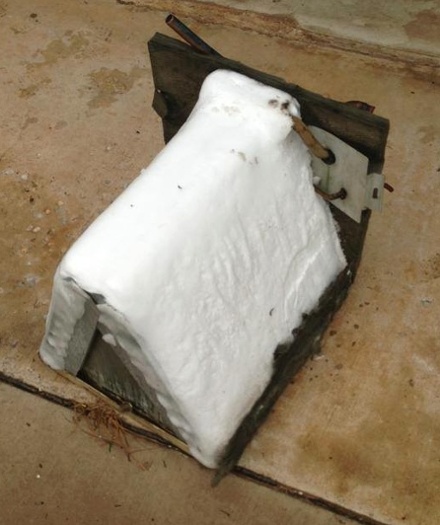 The photo above is not from the house where I took those filter photos because I didn't open up the unit. It was definitely frozen up, though, because the ice was even coming out of the housing. The photo here does show what happens, and you can see that when a coil freezes up, no air will move through it. This picture is from one of my favorite Facebook pages, HVAC hacks and other screwups.)
Related Articles
The Sludge That Kills — Post Mortem of an Air Conditioner
The Magic of Cold, Part 1 - How Your Air Conditioner Works
Subscribe to the Energy Vanguard Blog
The Latest from the Energy Vanguard Blog