How Do We Get More Diversity in Green Building and Home Performance?
I'm a white male. I know, I know. You saw my name and thought I was woman. It's not the first time that's happened. My 10th grade biology teacher refused to believe that I was Allison Bailes on the first day of class when she called roll. It wasn't until a friend of mine confirmed it for her that she accepted the reality that Allison is a name that could actually be given to a male.
Despite my inclusion in Who's Who of American Women, The Millenium Edition, the fact remains I'm male and I'm white. So are the majority of the folks who work in this industry. I don't apologize for being a white male or working in this field. I had no say in the former, and I'm doing what I love, which is what I think everyone would do.
I'd love to see more women and more diversity in general, though. We all think differently, and the kind of genetic, cultural, and ethnic backgrounds we come from has a big influence on how we approach problems. It's the melting pot of ideas that can help us solve a lot of the problems we face in the world, and I believe that energy is one of the biggest.
I got to thinking about this recently as I was looking through the Energy Vanguard Blog and seeing nothing but white males in the photos. I haven't done a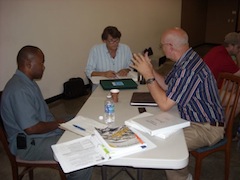 good enough job of including women and minorities here, and I want that to change. When I show photos of our HERS rater classes, there's not much diversity because our classes haven't been diverse. In the spirit of being open with our numbers again, I'll tell you that in the 8 classes we've taught, only 7% of our students have been women and only 7% have been minorities.
The field of green building and home performance has a lot of great folks involved, including some very influential women. A few whom I know are:
Amanda Evans, who's done an amazing job at helping to build the New Mexico EnergySmart Academy in Santa Fe
Linda Wigington, the founder of Affordable Comfort, which puts on one of the best national conferences in our industry, and a passionate advocate for deep energy retrofits
Tamasin Sterner (photo at right), who's been doing and teaching home performance for 25 years and won the 2011 BPI Tony Woods Award
At Affordable Comfort's national conference earlier this year, a new initiative called Women in Home Performance got its start. I heartily support efforts like this. We all benefit from diversity, so let's do what we can to get more of it. For my part, I'll work harder to make the Energy Vanguard Blog more inclusive, something I haven't really paid enough attention to up till now.
What are your thoughts?
Related Articles
Time for a Reality Check on Our 8 Day HERS Rater Training
Subscribe to the Energy Vanguard Blog
The Latest from the Energy Vanguard Blog