The Best New Blower Door Device You're Gonna Love!
Last night I was at the Energy Avenger...er, the Energy Logic hospitality suite at the end of a great first day of the RESNET conference. I got a chance to talk with many of the wonderful people in the HERS rating industry, but I was also fortunate to be able to sit and talk to Gary Nelson, owner of The Energy Conservatory, for a while. We spoke of many things, but at one point I asked him what's the latest and greatest in the world of blower doors.
As any self-respecting building science geek would, he had a manometer in his bag. He reached in and pulled it out, as you see in this photo. But this isn't just any DG-700 he's holding. See that blue light on the top? That's part of an attachment that screws onto the RS-232 port and produces a wifi signal.
Wifi? On a manometer? Wow! Well, if you can connect with your manometer through wifi, then that means you could read and control the manometer remotely, right? So you could be in an attic, say, and turn your blower door on, read the house and fan pressure, and set the cruise control. Wow!
Is there an app for that? You bet. Right now, it's just available for the iPhone but they'll have a Droid app out some day. The photo below shows you what it looks like.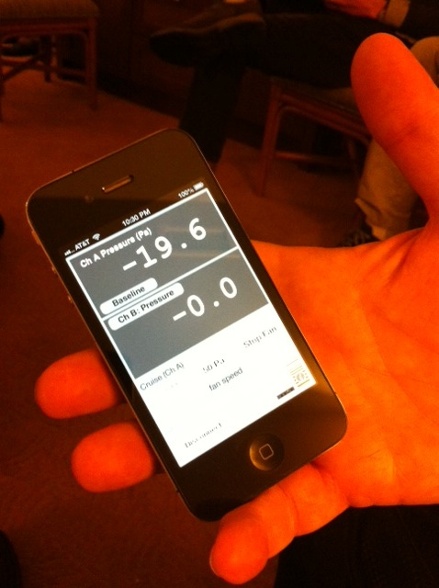 You can't really see it here, but right below where it says 'fan speed' is a slider to adjust that parameter.
How cool is that!?
Gary said the device isn't available yet but will be ready to buy in June. The cost: $275. If you're at the RESNET conference, stop by The Energy Conservatory booth to get a demonstration.
Related Articles
A Blower Door Can't Tell You How Much Mechanical Ventilation You Need
Georgia Rocks! - New Energy Code Requires Blower Door Test
Subscribe to the Energy Vanguard Blog
The Latest from the Energy Vanguard Blog