Does Texas Use More Energy for Heating or for Cooling?
Texas is a hot state, right? Certainly then, homes in my original home state use more energy for air conditioning than for heating. That's why they need such massive air conditioners, like the one you see here. Right? Not so fast. The real answer is yes, they do, but the other real answer is also yes, they do.
What?
OK, let me explain. The US Energy Information Administration (EIA) publishes a lot of data about energy production and consumption, and their 2009 Residential Energy Consumption Survey (RECS) has the answer. I downloaded the spreadsheet that shows residential data by end use and put together the pie chart below.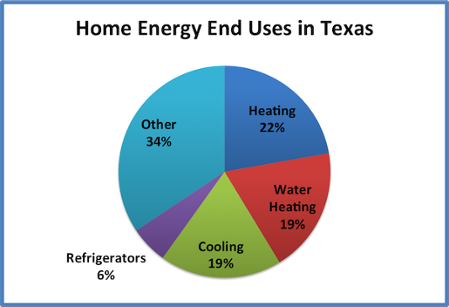 In the chart you can see that heating accounts for 22% of the average Texan's home energy bills, and cooling accounts for 19%. So, they use more energy in their home (site energy) for heating than for cooling.
Ah, but the power plants energy that make their electricity aren't 100% efficient. Thus, the source energy is greater than the site energy, probably by a factor of 3 or so. If the energy used at the power plant is 3 times higher, that would push the total energy used for cooling higher than the energy used for heating. That's why saving electricity at home has a multiplier effect in a previous article.
So, as I said in the first paragraph, you're right either way, but you're not really right unless you understand the difference between site and source energy.
Related Articles
The Electricity Multiplier Effect for Home Energy Efficiency
Heating or Cooling - Which Costs You More?
Subscribe to the Energy Vanguard Blog
The Latest from the Energy Vanguard Blog