The High Price of R-22 for Air Conditioners May Close the Loophole
Air conditioners use refrigerants to move heat from inside your home to the outdoors. The old refrigerants were bad for the ozone layer in the stratosphere. The first replacement, R-22, is better but was meant to be used only as a transition until a new type of refrigerant could be developed to take its place.
Since the end of 2009, the US EPA has banned manufacturers from shipping out new air conditioners with R-22. Their rules contained a loophole, however. If they 'dry-shipped' the new ACs, the ban didn't apply, a loophole I wrote about last year. One manufacturer saw the loophole and jumped through. Others followed.
In the past three years, a lot of new R-22 air conditioners have been installed, despite the EPA's intention to accelerate the transition to R-410A. Sadly, the installers focused only on the first cost of these systems, ignoring the inevitable high prices of servicing air conditioners with a banned refrigerant.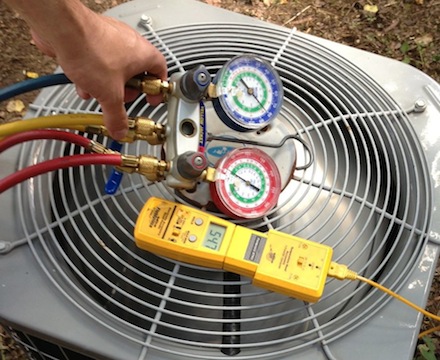 R-22 prices begin their ascent
Last week I saw an article on Angie's List about the price of R-22 in which they stated that contractors are charging $35 to $175 per pound for R-22 now. I've asked around and found that the price of R-22 is running 3 to 5 times the cost of R-410A.
How does the first cost of that dry-ship unit look after you fill it with such expensive refrigerant? Not so good, and that's what is finally going to close the loophole that allows dry-ship units to be sold. And if you think it costs a lot now, just wait. In two years, production of R-22 is set to drop 90%.
Related Articles
HVAC Secret: An Air Conditioner Loophole the Size of the Ozone Hole
The Science Behind the Phase-Out of R-22 Air Conditioner Refrigerant
The Science of Global Warming Is Older Than Quantum Mechanics
Subscribe to the Energy Vanguard Blog
The Latest from the Energy Vanguard Blog