Yowza! The Energy Vanguard Blog Crashes the 500 Barrier
My Building Science Summer Camp photo highlights was article number 500 published in the Energy Vanguard Blog! I starting writing this blog on 7 March 2010 and have poured innumerable hours into it since. The actual number is higher than I'm willing to admit but probably not as high as my wife would have you believe. It's been my #1 obsession for the past three and a half years.
Judging by the traffic and comments and subscribers, I'd say it's done pretty well, too. Joe Lstiburek called it fabulous. Home builder Chris Senior says it's 'off the chain.' Many others have written nice things about it as well. I appreciate all of the feedback our readers have given us over the years, the praise and the constructive criticism.
Since only a few of you have been around since the beginning, today I'd like to point you to some of my personal favorites as well as the ones I think are most educational. And although they certainly need no help, I'll start with the top 5 most viewed articles.
Top 5 most viewed articles
4 Pitfalls of Spray Foam Insulation 74.4k page views, published 29 June 2010
Don't Set Your Air Conditioner Thermostat Like This 73.2k page views, published 6 June 2011
Don't Let Your Attic Suck - Power Attic Ventilators Are a Bad Idea 62.4k page views, published 8 June 2011
Bob Vila and the Vent-Free Gas Fireplace — A Sorry State of Affairs 55.4k page views, published 9 December 2011
Case Closed: Get Those Air Conditioning Ducts out of the Attic 36.4k page views, published 20 June 2011
It's interesting that #2 and #3 were published back-to-back, two days apart, and #5 was published only a couple of weeks later. These five articles are also at the top of the list just about every day and keep generating a lot of traffic. 
5 most educational articles
Building Science 101 — A primer on the fundamental principles
The Magic of Cold — Beginner or Intermediate Air Conditioning Principles — How the refrigeration cycle helps to keep your house cool
How the Heck Does a Heat Pump Get Heat from Cold?! — A little introduction to the Second Law of Thermodynamics and mechanical systems
Flat or Lumpy - How Would You Like Your Insulation? — The article I had to write before I could publish 4 Pitfalls of Spray Foam Insulation (see list of most popular articles above)
Oooh, Shiny Stuff! - Radiant Barrier Fundamentals — How radiant barriers work and when they don't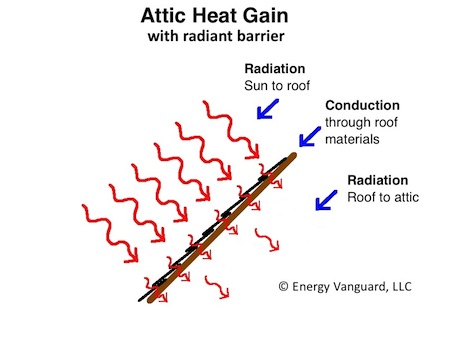 Choosing only 5 here was a difficult task. You could certainly argue that others might be more deserving. Heck! I could argue that better than you.
My top 5 personal favorites
I Don't Need No Stinkin' Building Science Summer Camp! This one got me invited to Summer Camp when I wrote it on the last day of the 2010 Summer Camp. Joe Lstiburek invited me in the comments.
The Mad Hatter, Isaac Newton, and That Old Thermostat Inspired by a photo of an old thermostat my friend Guy Theriot posted on Facebook, I started writing one article and this one came out instead.
The Most Important Lesson I Learned in Grad School An important lesson indeed.
The Haunted House-as-a-System Down the Street A very fun story I wrote for Halloween last year.
Love Is More Important Than Building Science — A Thanksgiving Story A realization about the sacrifices my dad made, inspired by two wonderful little girls named Ava and Elena.
Where we're at and where we're going
It's been a great experience writing this blog. I've learned a whole lot by doing it and have made some amazing connections here. According to Dan Perunko, I've even become semi-famous.
Traffic to our website has grown from nearly nothing when I started in March 2010 to nearly 100,000 unique visitors last month. I thank all of you, our readers, for having an interest in the topics I write about and for telling others about the Energy Vanguard Blog. Together, I believe, we're changing the world.

Well, that's the first 500. As Bill Smith replied when I mentioned this milestone on Twitter, after another 500 articles, I'll have a grand blog. There's so much more to be said, so stay tuned as I continue to explain the basics, dive deeper into the details, and have a lot more fun along the way.
Hope you're enjoying the ride as much as I am!
Related Articles
Building Science Blogger Reaches Crazy Milestone on Special Day!
11 Secrets to Blogging about Building Science (or Any Topic, Really)
Possums, Dilbert, & Happy Caulkers - A Building Science Blog's Growth
Subscribe to the Energy Vanguard Blog
The Latest from the Energy Vanguard Blog