Is Mike Rowe Right about the War on Work?
Peripeteia and anagnorisis. Not the kind of words you expect to hear from people who do 'dirty jobs.' Of course, Mike Rowe doesn't do dirty jobs for a living the same way that most of the people he covers do. Anyone who's done what Mike Rowe did with lamb testicles that day in Craig, Colorado, though, is allowed to use a couple of big words.
The importance of hard work
I'll get to those testicles later, but first let's talk about work. This past Friday was National Tradesmen Day. Last year, I wrote about that special day and Mike Rowe and my grandfather, Allison A. Bailes Sr. That's him in the photo you see here (my grandfather, not Rowe). And yes, that's me photobombing before the term even existed. I think the picture was taken in 1976, when I was 15.
Through most of the 1970s, I spent two months each summer at my grandparents' house and got to go out and 'work on the truck,' which meant going on calls with Pappaw and my uncle Dickie. I learned a lot during those summers. I learned what it meant to spend a whole day in hot attics, cleaning out sewer lines, and serving customers. I learned that my grandfather was as respected in the community as he was in the family. I learned that hard work is an honorable thing.
But I didn't want to have the same kind of blue collar career as Pappaw. I wanted to go to college and 'work smart, not hard.'† So I got a physics degree. Later I went back and got three more.
I have to say, though, that some of the most fulfilling times in my life have been when I was doing physical work. In 1981, for example, I rebuilt the engine in a 1961 Volkswagen Bug. That was at my grandparents' house, and Pappaw provided a lot of support to help me get through it. The lawnmower putt putts of that 40 horsepower engine when I started it up for the first time after weeks of work is probably still the sweetest aural experience of my life.
Seven years later, I rebuilt the engine in another VW. The thrill of doing it for the first time wasn't there that time, but I had to do it under more adverse conditions: I was working in a freezing cold garage every night for a couple of weeks.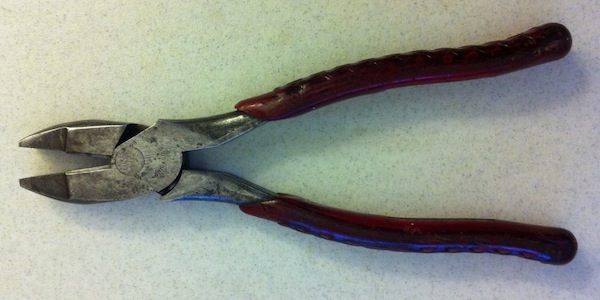 Then, from 2001 to 2003, I spent thousands of hours building a green home. I even used Pappaw's Klein sidecutters (shown in the photo above) when I was installing the electrical fixtures. They were made in 1968 and were in his tool pouch all those summers I worked for Bailes Electric.
Work smart AND hard
Mike Rowe has become one of my heroes. He puts himself out there and does stuff that makes me cringe. I watched an episode where he was climbing up one of the huge support cables on the Mackinac Bridge, and I could feel myself struggling to breathe from fear of heights.
Even better, Rowe has started a campaign to fight what he calls the 'War on Work.' He's got a website called Profoundly Disconnected, where he promotes the trades and combats the bias against doing hard, physical work. He also has a foundation to support the trades, Mike Rowe Works. This guy is the real deal!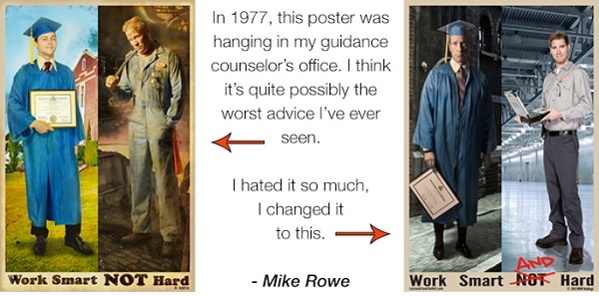 The image above, Rowe shows one of the ways the bias against the trades shows up. The poster on the left was what confronted students in the guidance counselor's office at his high school. The one on the right is his reworked version to show that it's OK to go into the trades.
About those lamb testicles...
Now, I mentioned lamb testicles in the opening paragraph, so I suppose I should fill you in on the story. And what a story it is! The thing is, I can't really do it justice, so I suggest you watch this TED Talk that Rowe gave in 2008. Rowe is not only a great promoter of the trades, he's also one of the best speakers I've seen (in video). In addition to learning what he did with those lamb testicles, you'll also find out the meanings of peripeteia and anagnorisis.
After watching that, I was in awe of what he's done and what he's doing. We need the trades. Rowe's big issue is the decaying infrastructure in the US, but we also have a huge number of existing homes that need to be fixed. Every year we build more new homes to add to the list of homes that need to be fixed. New homes are getting better, but there's still a long way to go.
We need smart people who understand building science to do the design and engineering and training. We also need smart people in the trades who bring it all together and make it happen. This idea that people are either book-smart or real world-smart is a false division. Rowe said it best in his TED Talk:
"Clean and dirty aren't opposites."
Related Articles
Not All Knowledge Comes from College
Why Won't the HVAC Industry Do Things Right?
How I Learned to Count by Building a Green Home
Footnote
† Actually, I didn't want to work at all, but the story of my emotional dysfunction is beyond the scope of this article. The type of work I'm talking about in this article would not have solved those problems; that required deep, inner work to get me to the point where now I'm less of a basket case than I was. Still, spending all my time building the house in the summer of '02 after my dad died was one of the most therapeutic things I've ever done.
Subscribe to the Energy Vanguard Blog
The Latest from the Energy Vanguard Blog