Confessions of a Building Science Zealot
Hi. My name is Allison, and I'm a building science zealot. I preach the gospel of building science, yet in my own life, I fall short of the perfection I exhort others to attain. Yes, I once built a green home that had many of the features I promote here, but if you've been reading this blog for a while, you know that my current residence is far from perfect. How so? Let me count the ways.
First, though, you should know that I live in a condo community that was built in 1970. Yeah, when I got divorced in 2006, she got the house, and I had to move out of the nice green home I built. I certainly didn't begrudge her that, and after all, I did get to keep the original CFLs that we bought in 1992. (They still work, and I still use them.) I've written quite a few articles here that describe the problems with this condo, but here for the first time, I'll try to put it all together for you.
The photo above is our building. It has four units, two on the first floor and two with pretty much the same footprint on the second floor. We're on the first floor, right over the unconditioned, moldy basement.
The building enclosure sieve
Air leakage. I've done at least 10 blower door tests on my condo, many of them with HERS rater classes that I brought here. We're currently at about 20 ACH50. You think that's bad? Hey, it's down from 32 ACH50, which we had for a while when two-thirds of the laundry room ceiling was missing! The main sources of air leakage are connections to the :
Stairwell
Fireplace chase
Unconditioned basement
At least we don't have one of the second floor units that came with a mechanical closet open to the attic...and with louvered doors to the inside!
Window dehumidifiers. As you might expect of a building built in 1970, it came with single-pane, metal frame windows, also known as window dehumidifiers. Even with the storm windows that a previous owner had installed, they have a tendency to act as condensing surfaces when it's cold outside and humid enough inside. This typically happens in fall.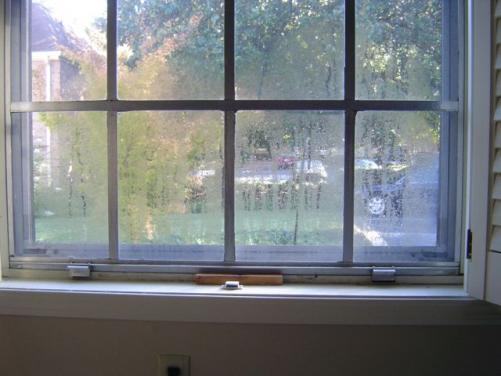 Floor insulation that does little to nothing. As I wrote three years ago when I discussed our crappy basement, the floor is insulated with fiberglass batts. The kraft paper facing is stapled to the floor joists near the bottom of the joists so they don't touch the subfloor. And they're only R-7. Why even bother doing the labor for something that's not going to help? Oh, yeah, and many of them have already fallen out, as usual.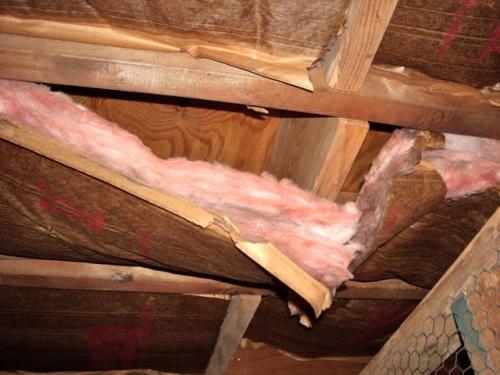 Miserable mechanical systems
As if all that isn't bad enough, our condo has an 80 AFUE furnace and a natural draft water heater. Our ducts are nominally inside conditioned space since they run in a dropped ceiling between us and our upstairs neighbor's unit. I wrote about the problems with atmospheric combustion a while back. I didn't say it in that article, but the photos shown there are all from our condo.
Atmospheric combustion inside the building enclosure. If it's not sealed combustion, it's best to keep it outside the building enclosure. Of course, it's really best to have all your heating and cooling equipment inside the building enclosure, which means ditch the atmospheric combustion stuff.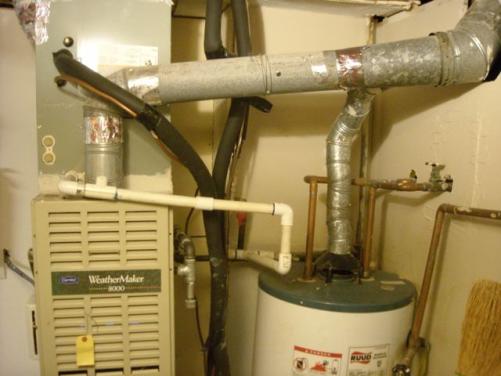 Common-vented furnace and water heater. Doing this can override a safety feature built into the furnace (more here). The natural draft water heater could be a risk for backdrafting and putting exhaust gases and carbon monoxide in our air. This is where our high air leakage actually helps, though. Because the condo is so leaky, there's no problem with the draft.
Leaky ducts. The ducts are nominally inside conditioned space. That doesn't mean they can't leak to places outside our condo...and boy do they! For the pressure testing geeks out there, we've gotten fairly consistent duct leakage test results of >30 cfm25 per 100 square feet of conditioned floor area. That's the amount of leakage to outdoors. Total leakage is even higher. For reference, ENERGY STAR Version 3 requires a maximum duct leakage of 4 cfm25 per 100 square feet.
Why haven't I fixed all this yet?
Reason number 1: We have absolutely no financial incentive to do anything about it. Our gas isn't metered individually, so the condo association pays that for us. Our monthly assessment covers that cost, and it won't change if we replace our furnace. Our electric bill is low, too, especially after I replaced our 25 year air conditioner with a new one in 2009. We've averaged $58 per month on our May through September electric bills this year.
Reason number 2: We haven't had any serious combustion safety issues, even with the potential problems I described above. Yeah, I worry about it and would love to change out that equipment, but...
Reason number 3: I came out of my 2006 divorce with a substantial amount of debt, mostly from building too much house and then investing in a new business that I shut down after two years. I finally got the debt paid off last year. Now I'm hoping to save some money to build something new rather than invest much in this place. (Maybe some day I'll even be able to afford to do a Deep Energy Retrofit of the new house I build, kinda like Dr. Joe did a double-DER of his barn. Or not.)
Reason number 4: I've been too busy blogging about this stuff to do anything about it.
So, I'll live with these building science problems and the inconsistency between my words and my life for a while longer. But I can see the light at the end of the moldy basement now. Or is that just the glowing eyes of a possum?
Related Articles
The Top 10 Mistakes I Made in Building a Green Home
3 Problems with Atmospheric Combustion Inside the Building Envelope
Looking at the Building Science Issues in an Old, Humid Basement
Subscribe to the Energy Vanguard Blog
The Latest from the Energy Vanguard Blog