Why Do So Many Expensive Homes Get Walmart-Class HVAC Systems?
The fellow standing in the home he's having built is proud. It's his dream home in Brookline, Massachusetts after all. The Wall Street Journal last week published an article about affluent home buyers getting their own jumbo construction loans to do just as Mr. Deshpande has done. Usually, they hire a home builder to build the home, but if you look at that photo, you'll see a mistake that's common even in million dollar homes.
See all that flex duct? That's Walmart-style. Wait, I think I'm being too generous. It's probably more like Big Lots-style.
I can't see much of the duct system in that photo, but I can see enough to tell me that they could have comfort problems.
The bundle of flex duct behind Mr. Deshpande is strapped a little tightly. 
If they're running three ducts in the same direction, why didn't they use a trunk line?
Worst of all, they ran flex duct in the roofline.
It's a shame that they've done this, too, because they used spray foam insulation in the walls and roofline. Someone obviously cared a bit about making the house comfortable and efficient, but as usual, that didn't apply to the duct system.
Sadly, this problem is common. The big expensive homes always get the fancy finishes. They often get the hot, green products as well: spray foam insulation, tankless water heaters, ground-source (aka geothermal) heat pumps... If they're putting in a forced-air HVAC system, though, they get crap for a distribution system.
Here's one I saw in a 10,000 square foot house recently: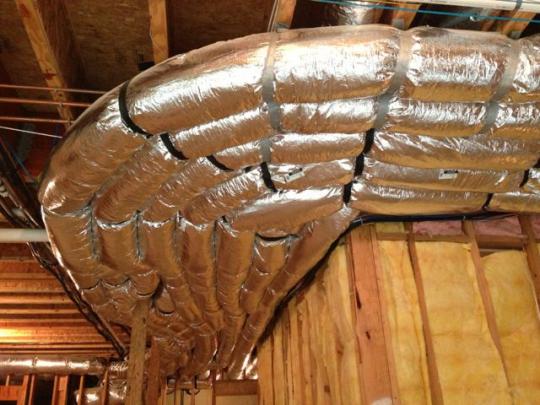 Yeah, they made it look pretty, but guess what — Those ducts all go to the master suite, which is one of the least comfortable areas in the house. The master bath gets too hot in winter and too cold in summer (i.e., too much air). The master bedroom gets too hot in summer and too cold in winter (i.e., not enough air). They should have designed and commissioned the system properly. Trunklines instead of all those individual ducts would have done much better.
Whose fault is this? It's hard to say in general, but it's almost certainly not the HVAC contractor's fault. The home builder hires the HVAC contractor to fit the budget. A cheapo budget gets cheapo HVAC. The home builder probably bears most of the responsibility, although in some cases, the person they're building for would rather put the extra money into finishes.
Mr. Deshpande looks proud of his new home in the photo above. If he knew he was standing next to a Walmart-class HVAC system, though, I wonder if that smile would turn to a scowl.
Whether you're building a multimillion dollar home or an affordable home, we can help make sure you get an HVAC design that works for you. See our pages on HVAC design and fill out the form to get started.
Related Articles
Why Do Million Dollar Homes Get Cheapo HVAC Systems?
Keep Out! - One Place NEVER to Put HVAC System Ducts
Warning: Skipping This Step with New HVAC Systems Can Lead to Misery
Subscribe to the Energy Vanguard Blog
The Latest from the Energy Vanguard Blog