Building Science Schmilding Science; Let's Do Things Right in 2014
We're a few days into 2014 now. A lot of homes got built last year, and a lot got renovated, too. Quite a few homes got home energy ratings, and even more had blower door tests. Spray foam attics and encapsulated crawl spaces also grew in popularity. Since the economy is heating up a bit, the numbers will probably be higher this year. But are things improving?
We're doing better
I think the answer to that question is definitely yes. The two main causes of the improvement are voluntary programs like ENERGY STAR for new homes and better building codes. Here are a few of the ways that improvement is showing up:
Homes are more airtight. We've had mandatory blower door testing in Georgia since 2011. The threshold builders have to hit is 7 ACH50 or lower. By just doing the basic air-sealing, many of them are hitting 4 or 5 ACH50 without difficulty. I've heard similar stories from other states.
Homes are better insulated. Two words: energy code. Those long ignored pieces of paper have gained a lot of momentum this century. In addition to increasing airtightness, energy codes call for more insulation and special attention to features like attic kneewalls. Oh, yeah. Tighter homes means the insulation performs better, too, because it doesn't have as much air moving through it.
Duct leakage is decreasing. In addition to the requirement for blower door tests, energy codes are also requiring tests for duct leakage. In Georgia, new homes can have no more than 8 cfm per 100 square feet of conditioned floor area. Without testing, they were averaging about 3 times that amount.
Windows are better. High-performance windows with low-e coatings are required in more and more places. Since even windows are the weak point for heat flow in building enclosures, this is good news. They're still bad compared to walls, but they're often three times better than they used to be.
We still have work to do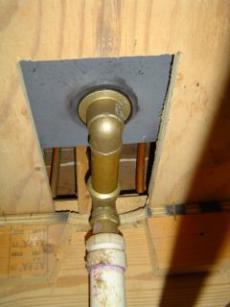 Too many people still believe the myths. You know, like that one about how you shouldn't seal up a house too tight because a house needs to breathe. Yes, I still run into home builders who believe this.
HVAC is still a mess. We may be getting the ducts tighter by requiring testing, but we haven't gone all the way to good design and commissioning. And without either of those, you end up ductopus systems, flaccid flex duct, and undersized return ducts that starve the system for air.
Airtight homes need mechanical ventilation. This should go without saying. Why then do some homes with spray foam insulation have no mechanical ventilation systems? Currently, energy codes do not require ventilation systems, but we're about to see some interesting maneuvering as the 2012 IRC gets adopted in states that are on the 2009 IECC. (More on that later.)
It's a new year!
But we can take the renewed energy of a new year and forge ahead. We can slay those old myths once and for all. We can reassure designers, builders, and trade contractors that despite the debates over things like the right ventilation rate, you still need a ventilation system.
As I've done for 6 of the past 8 years, I celebrated the new year at the Possum Drop party. This was the year of the Possum Dragon (or Possumdactyl, depending on who you talked to). As midnight approached, the newly crowned Possum Queen led the countdown and the Possum Dragon descended into the bonfire. Once again—and perhaps surprisingly—the house did not burn down and no one was injured.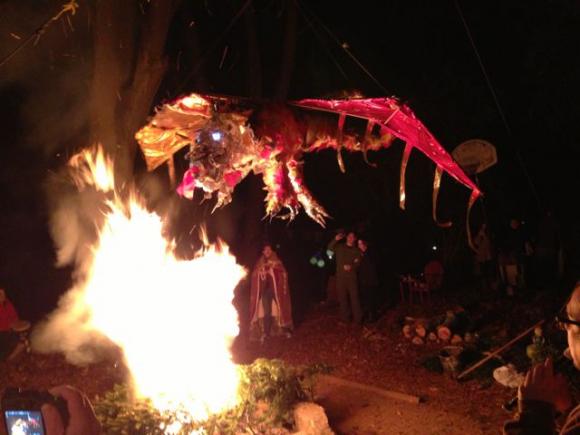 I also learned something new this year. The chicken wire frame on which the possum is built is the same one that's been used for several years now. So what we really had was not a Possum Dragon but a Possum Phoenix. After getting burnt to ashes a few days ago, it will resurrect itself and be reborn on New Year's Eve at the end of the year.
In the same way, we can renew ourselves and our dedication to analyzing, designing, building, and improving homes. Sometimes in the heat of the battles we fight, it feels as if we're being burnt to a crisp. Those fires are necessary, though. They help make us stronger and renew our spirits.
Happy New Year!
Related Articles
The State of Building Science in the Post-Mayan Non-Apocalypse
Energy Vanguard's 25 Ridiculous, Made-up Predictions for 2012
Possums, Dilbert, & Happy Caulkers - A Building Science Blog's Growth
Subscribe to the Energy Vanguard Blog
The Latest from the Energy Vanguard Blog