Why Is This Obsolete Supply-Only Ventilation Method Still Used?
The small duct in the photo below is supposed to bring in outdoor air for ventilation in this new home.  It's a simple method that consists of a duct running from an outdoor wall cap to the return plenum of the HVAC system. A decade ago, it was commonly recommended as the easiest and least expensive way to ventilate a home in a humid climate. When I worked at Southface, however, we made the transition away from it for some very good reasons.
Aside from the obvious problem of the sharp turn and the constriction from the strap, both of which reduce the air flow in the system shown above, this ventilation strategy has serious problems. They are:
With no damper to close it off, this method is really just duct leakage. Yeah, the leak is from the outside, but it's still little more than a duct leak.
With no electronic damper and controller, this method will result in too little ventilation for much of the year.
If the damper fails, malfunctions, or doesn't get installed, that duct could be the source of a lot of extra ventilation air, which then would be air leakage. It would exchange air even when the system is not running because it's just an open pathway to the outdoors.
Bringing in outdoor air is a good thing. It needs to be controlled, though, so the type of system that connects a duct to the HVAC system needs to have some other components:
An electronic damper, to close the duct when ventilation air isn't needed and to open it when it ventilation is needed
A controller to open and close the electronic damper and to turn on the air handler when the house needs ventilation air but not heating or cooling
A balancing damper to set the proper amount of ventilation air
The diagram below shows how it's supposed to be done. You can't see the controller here, but that's what opens and closes the electronic damper.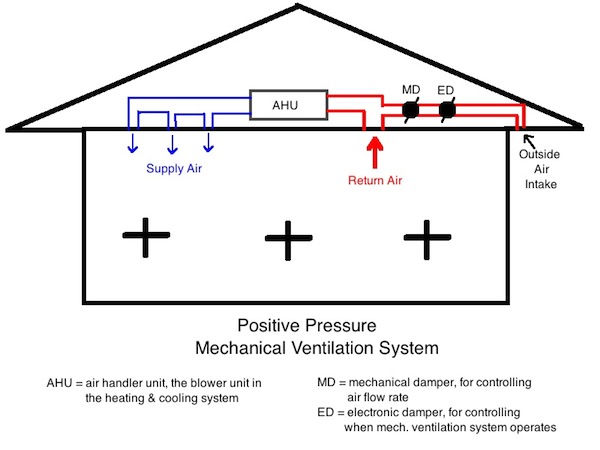 This type of system is called central fan integrated supply (CFIS) ventilation. It's tricky, but it can work well if designed, installed, and commissioned properly. Without those other components, though, it's just extra duct leakage and air leakage that will rarely provide the right amount of ventilation air.
It's a bit odd to be writing about this because I didn't think anyone was doing it anymore, but the house where I took the photo above is a brand new house. Apparently they never got the message that you need to have control of holes that go to the outside of the building enclosure. I applaud this HVAC contractor's installing a mechanical ventilation system at all because this home is not part of a program or code that requires it, but it's time to relegate this method to the scrap heap of ideas that don't work.
Related Articles
The 2 Primary Causes of Reduced Air Flow in Ducts
The Great Ventilation Debate - Live at Affordable Comfort!
Can Occupants Be Trusted to Control Their Home's Ventilation System?
NOTE: Comments are moderated. Your comment will not appear below until approved.
Subscribe to the Energy Vanguard Blog
The Latest from the Energy Vanguard Blog