Moisture Transport, Sorption Isotherms, and Aliens Drinking Beer
You know about the fourth state of water. (You read my last article, Introduction to the Physics of Water in Porous Materials, right?) Not liquid, not vapor, and not solid, it has properties similar to liquid water but not quite the same. Today we'll take a look at how that physics affects the transport of water through porous materials.
The 3 transport modes
When humid air interacts with porous, hygroscopic materials, it does what Homer Simpson says to do: "In this house, we obey the Laws of Thermodynamics." Water gets into the material and moves to where it's drier. It does so in one of these three ways:
Vapor diffusion
Surface diffusion
Capillary flow
Vapor diffusion carries water vapor through the material in the vapor state. It doesn't stick to any of the surfaces it encounters. It just floats on through in the empty space of the pores. Not much water gets through like that.
Surface diffusion moves more water than vapor diffusion. This happens because of that attraction I discussed earlier. Since the first monolayer is attracted the most strongly, it's energetically favorable for a molecule in the second monolayer to move down to the first layer if it can, as shown below.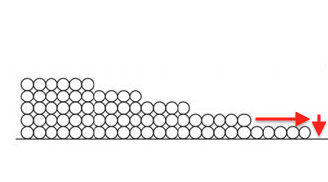 Likewise, molecules from the third monolayer want to move down to the second, the fourth to the third, and so on. In that fashion, water can move through a porous material via surface diffusion.
But things really open up when the capillaries start filling up. Once a pore is completely full, water can move more rapidly through the porous material. That's capillary flow.
Sorption isotherms
Now we can put all this together and understand what's going on in these geeky things called sorption isotherms. The graph below, taken from Professor Timusk's doctoral thesis, is a good example.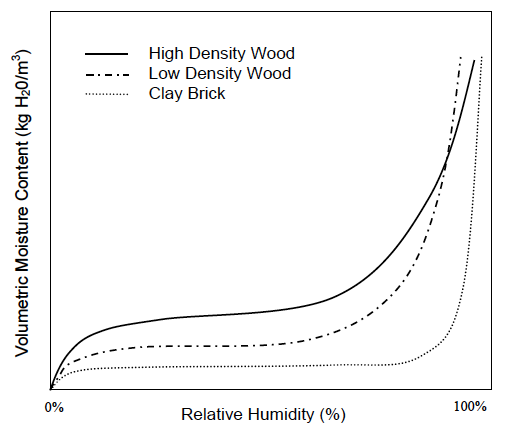 First, let me point out that there are three curves here: two for different densities of wood and one for clay brick. Each one shows the moisture content in the material as a function of the relative humidity of the surrounding air.
Notice that each curve exhibits the same pattern: a rapid rise, a flattening out, and then another rapid rise. Recalling the explanations above for adsorption and the three types of moisture transport, what do you think is happening in those regions? See if you can figure it out before going on to the next paragraph. To distract your cheating eyes from "accidentally" reading the answer first, I'll let you look at this picture of aliens drinking beer. Now think!
Well, first off, the curves show surface diffusion and capillary flow. We know capillary flow starts at higher relative humidities, so the initial rise and the flattened out part are where surface diffusion is happening. But why does the initial rise flatten out so quickly?
Recall that the first monolayer feels the strongest attraction for the surface. It gets filled at about 10% relative humidity. The flat part of the curve is mostly filling the second monolayer plus a bit more in wood and significantly more in brick.
When the curves shoot up again, capillary flow has kicked in (see graph below). Now the moisture content can increase rapidly with increasing relative humidity. And here's where we can see something really interesting about the difference between materials.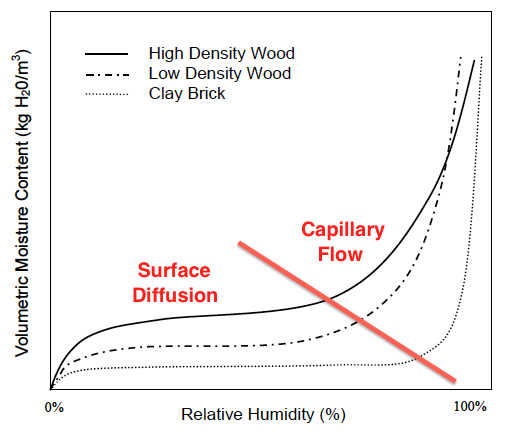 Notice that capillary flow doesn't start in the brick until the relative humidity is much higher than in the two types of wood. Hmmm. What could cause the capillaries not to fill up at lower relative humidity like it does in wood? Why of course. It's because they're bigger!
Another important thing to know about sorption isotherms is that the curves you see above are for a specific temperature. As you raise or lower the temperature, the curves shift. Why? Because the amount of moisture a material can hold at a give relative humidity depends on how warm or cool it is.
Warmer materials cannot hold as much moisture because there's enough heat there to dry them out. Cooler materials hold more moisture.  In fact, Bill Rose calls this the Fundamental Rule of Material Wetness: Warm materials tend to be dryer and cool materials tend to be wetter.
And now you can look at sorption isotherms and understand what they're telling you about materials. At least I hope that's your main takeaway here, although "What?! Aliens drink beer?" is probably a strong one, too.
Read Part 1:  Introduction to the Physics of Water in Porous Materials
Related Articles
The Experts Discuss Hygrothermal Analysis
Is This the End of the Double-Wall, Cold Sheathing Scare?
Moisture and the Quirkiness of OSB
The Wicked Witch of the West, Phase Changes, and Building Science
Sources
The main source I used for this article and the previous one on the physics of water in porous materials was chapter 3 of Professor Chris Timusk's doctoral thesis (pdf). Most of the rest came from Dr. Joseph Lstiburek's presentations on building science fundamentals and hygrothermal analysis, Wikipedia, and Bill Rose's book, Water in Buildings.
Image Credits
#1 from Eric George of Building Performance Group. #2 is a modification of an image from Building Science Corporation. #3 & #5 from doctoral thesis of Professor Chris Timusk (pdf), with modification on #5. #4 by http://www.flickr.com/photos/gray_um/ from flickr.com, used under a Creative Commons license.
NOTE: Comments are moderated. Your comment will not appear below until approved.
Subscribe to the Energy Vanguard Blog
The Latest from the Energy Vanguard Blog