The Builders' Boot Camp Is Right Around the Corner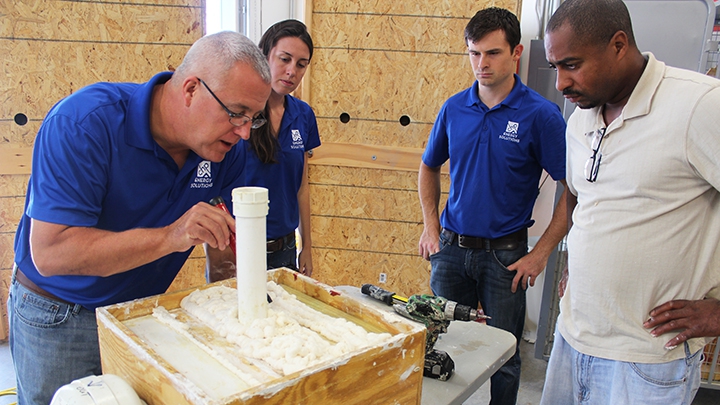 Now that Summer Camp is over, I'm excited about Boot Camp. That would be the Builders' Boot Camp that Community Housing Partners (CHP) puts on each year. It's being held on 30-31 August. I haven't been part of it before, but this year I'm teaching a half-day class four times over the two day affair. In talking with the people who have done it before, I think it's going to be a fantastic learning opportunity.
Let's do the arithmetic: Since I'm teaching my session four times over two days, that means there must be four instructors and four different classes. The whole group of participants gets divided into four smaller groups and each rotates through the four different half-day sessions.
What are those classes and who's teaching them? Here ya go:
What the Duct!?
Instructor: Allison Bailes (That's me!)
What happens to the air flow in a sagging flex duct? Is it better to use rigid elbows to turn the air? Will a variable speed blower fix all your duct problems? So many questions arise when you start trying work on duct systems so they'll do what they're supposed to do. In this session, we'll look at some of the basic issues associated with duct systems: air flow, static pressure, duct leakage, and more. When you leave, you'll be able to:
Diagnose the causes of poor air flow
Know when duct sealing may cause problems
Describe what's necessary for good air flow
This session will NOT be a deep dive into the theory behind air flow and duct design. It WILL be a hands-on workshop to get you familiar what matters and what doesn't in getting a duct system to perform well. We'll give you just enough of the theory to make sense of what you discover and provide resources for you to learn more after the class.
Indoor Air Quality: Myths, Reality, Assessment, Solutions
Instructor: Paul Francisco (chair of the ASHRAE 62.2 committee & IAQ researcher)
People want good indoor air quality, but often don't know what it is or what to do. This session will explore multiple facets of indoor air quality. We will discuss myths and reality, where different contaminants come from and what they do, common problems in homes, measurement techniques for different contaminants, and ventilation strategies. Contaminants to be discussed include moisture, carbon dioxide, carbon monoxide, formaldehyde, volatile organic compounds (VOCs), ozone, respirable particles (PM2.5), and radon. Sampling tools will be displayed and discussed. Plenty of time will be available for Q&A.
Reduce Your Costs and Increase Your Profits Using Quality Management
Instructor: Dick Kornbluth
Whether you are a private contractor or a weatherization agency, call-backs and employee turnover affect your bottom line. Every call-back reduces your net income and the cost to train a new employee diverts resources better used to increase production and generate revenue. Of all the investments, you can make in your organization, the investment in creating a culture and system of quality will pay the greatest dividend over the long haul. This session will be an introduction to Quality Management as a profit center. We will look at the real cost of call-backs, how to create a culture of quality in your organization, and how to train and retain staff. This will be an inter-active session which will challenge you with exercises and activities designed to engage you in the process of improving your organization's commitment to Quality.
Moisture Movement, Loads and Monitoring
Instructor: Nikki Krueger
This session will consist of an overview of moisture movement in buildings utilizing Anthony Cox's interactive model H.A.M. (Heat, Air, Moisture) House, other props, tools and moisture measurement equipment. Discussions will consist of moisture and its effects within tighter more efficient buildings and how moisture loads are controlled or not controlled, especially in humid climates with part load conditions. Demonstration of remote Wi-Fi monitoring equipment and recent data collected from buildings with moisture issues will be discussed including findings, and results from implementing control strategies.
Get in while you can!
The event is limited to 40 people (10 per subgroup), so don't wait to sign up. I know all the instructors and the folks at CHP who put this on, and it's going to be great! (Anthony Cox is one of those CHP folks, and you may recall an article I wrote about his latest creation: a model house for demonstrating moisture effects.) I'm in the North Carolina mountains right now and am going up there tomorrow to visit them and get a look at their facility. You should make your plans to go there at the end of this month.
Learn more about Builders' Boot Camp
Related Articles
A Vivid Demonstration of the Benefit of Exterior Insulation
12 Resources for Learning & Teaching Building Science
The Most Important Lesson I Learned in Grad School
NOTE: Comments are moderated. Your comment will not appear below until approved.