Can You Cool Your Home with Crawl Space Air?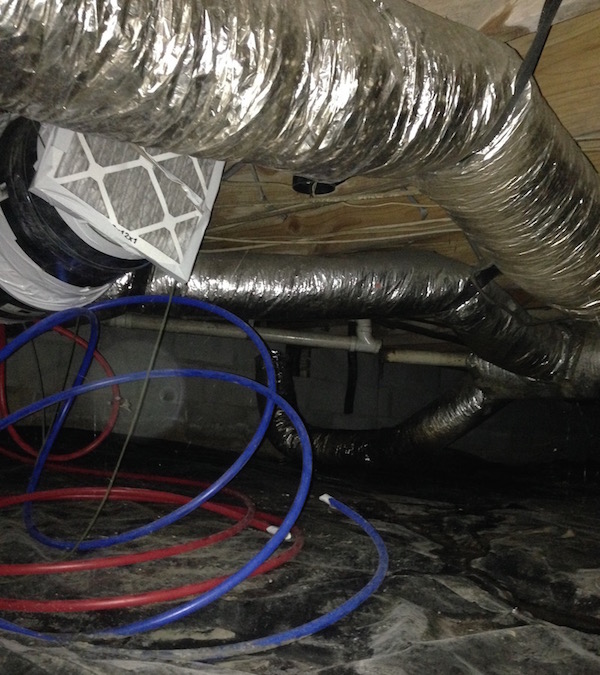 I know it's not air conditioning season, but this story is too good to wait until summer rolls around. My friends at E3 Innovate in Nashville — you may remember them for finding the home ventilated with dead possum odors — have done it again. This time they've discovered a crawl space with an unhealthy innovation. Let's take a look at the photos.
Yes, that's an air duct terminated with a filter in this vented crawl space. But that's not just a return duct connected to the main system for the house. That's an independent duct that runs from the crawl space to the unconditioned bonus room.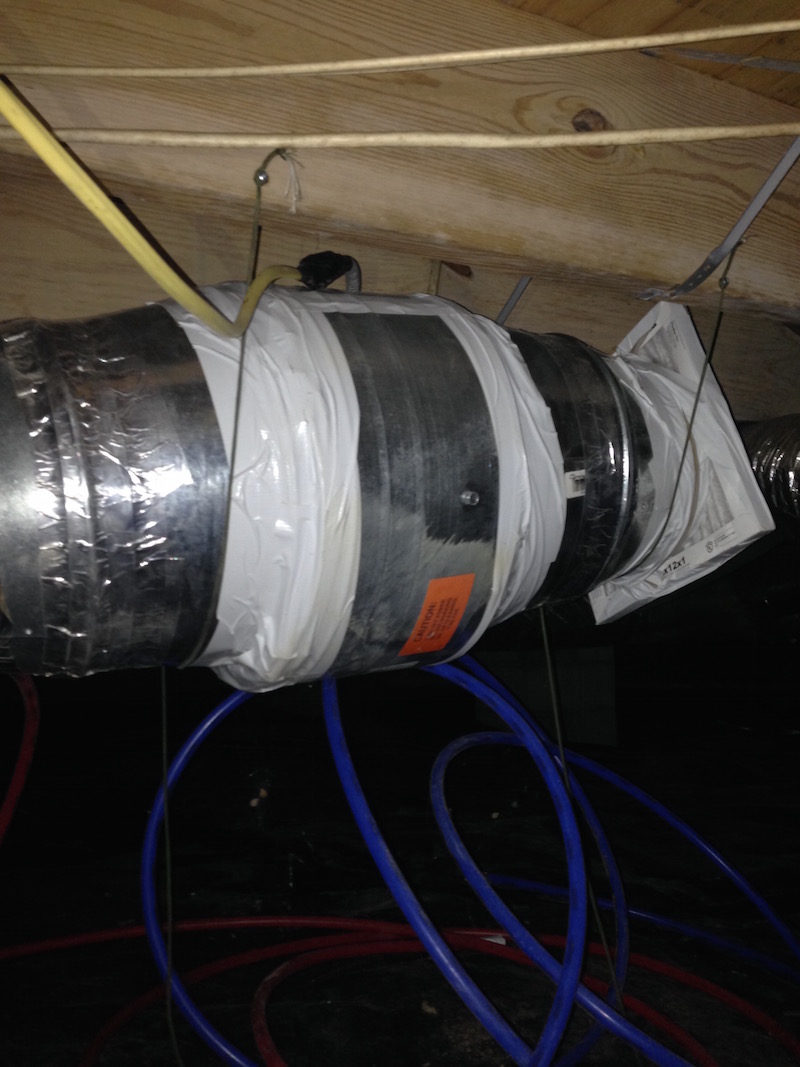 And, as you can see in the second photo, there's an inline fan to move air from the crawl space to the bonus room. This is a DIY job, and the guy who did this to himself had the idea that he could cool the bonus room in summer by bringing some of that nice, cool crawl space air up into the room.
But wait! What's that I see in the background of the first photo?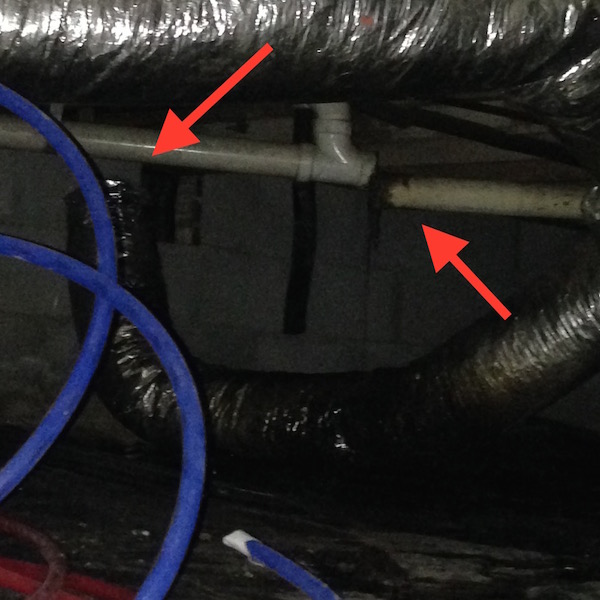 Zooming in, we can see two problems here. First, the left arrow points to a disconnected duct. Second — No, it can't be! Is that really a disconnected plumbing drain?! Why, yes. Yes, it is. As if a vented crawl space doesn't already have enough moisture problems, this one has that extra ingredient: nasty drainwater.
And because I know you're dying to have a closeup look at that drain leak, here's the last photo. Chris Myers, who sent us the photos, estimates this leak has been active for at least a year. The good news here is that another family member convinced the innovator to stop using the fan. Of course, the connection was still there so some of the foul crawl space air probaby still made its way into the room.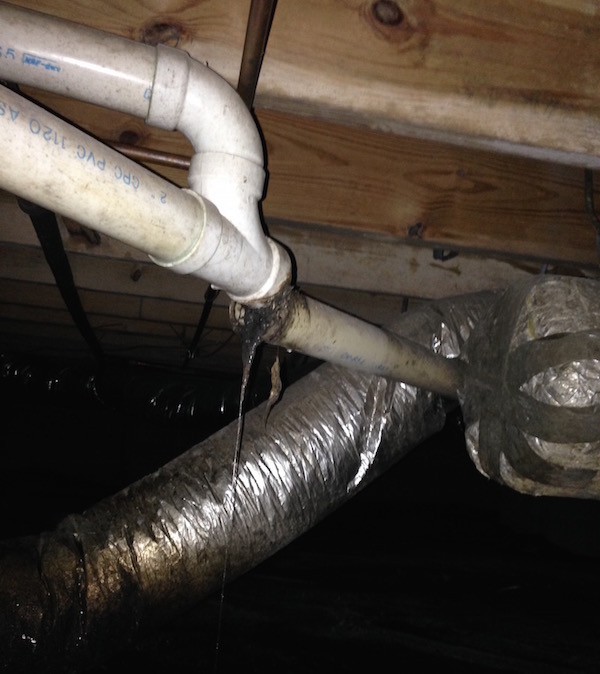 If you aren't already convinced that pulling air from a crawl space into your home is a bad idea, be sure to go back and read about E3's dead possum discovery.
Crawl spaces don't have to be nasty indoor air quality disasters, though. If you encapsulate the crawl and treat the air properly, they can help you breathe better air and make your home last longer. Another thing many homeowners find when they have a beautiful encapsulated crawl space is that it becomes the place that everyone gravitates to during parties. Forget the kitchen. Let's party down below!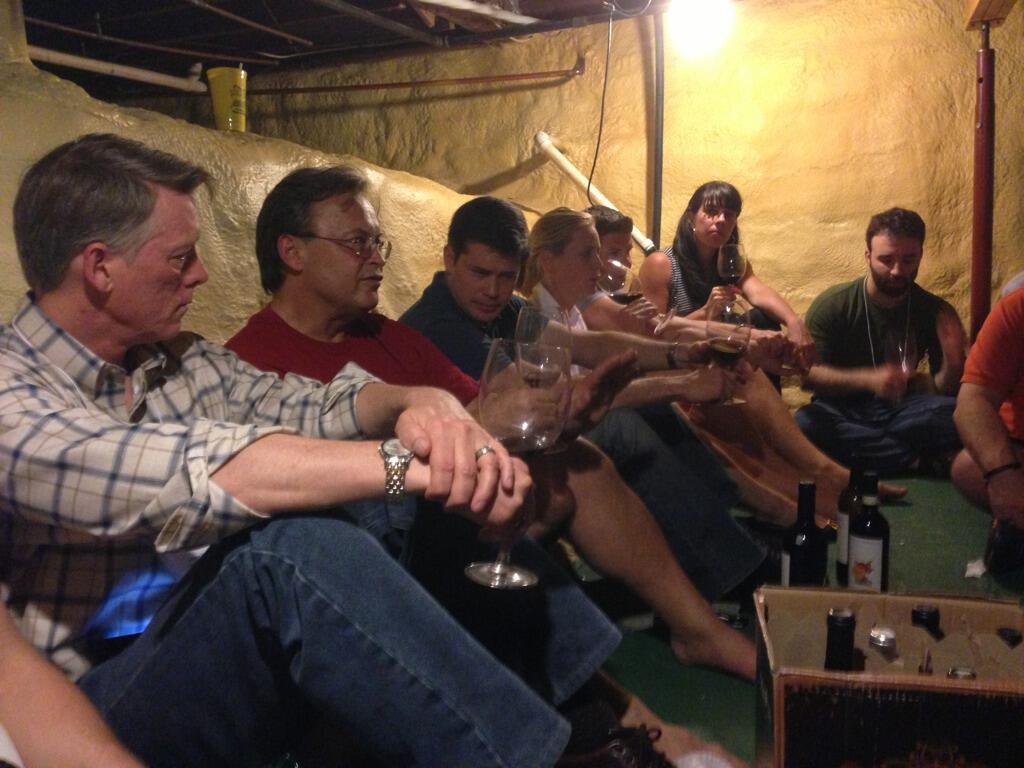 Allison A. Bailes III, PhD is a speaker, writer, building science consultant, and the founder of Energy Vanguard in Decatur, Georgia. He has a doctorate in physics and writes the Energy Vanguard Blog. He also has a book on building science coming out in the summer of 2022. You can follow him on Twitter at @EnergyVanguard.
Related Articles
Are You Breathing Dead Possum? — Crawl Spaces, HVAC, & IAQ
Vented Crawl Spaces and the Psychrometric Chart Are Not Friends
3 Reasons Your Crawl Space Has High Humidity & Grows Stuff
What Is the Best Way to Deal with Crawl Space Air?
Photos of nasty crawl space by Chris Myers of E3 Innovate. Photo of crawl space party by Peter Troast of Energy Circle. All photos used with permission.
NOTE: Comments are closed.