Energy Efficient Design for Green Modular Homes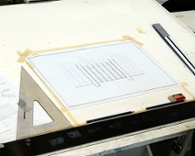 I've been spending a lot of time at the drafting table lately. In fact, I've worked up about half a dozen floor plans in the past week alone. I'm gearing up to release a series of pre-packaged construction-ready plans for purchase. Each one is being designed to be energy efficient and will meet or exceed the guidelines of programs like Designed to Earn the ENERGY STAR, LEED for Homes, NAHB's Green Building Program and EarthCraft House. The goal is to provide comfortable, beautiful homes that are affordable, have a small carbon footprint and very low energy costs.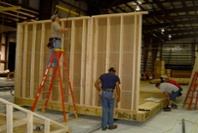 The other component of these designs that we are really excited about is their ability to be built either as a green modular home or traditionally site-built!
There is quite a bit of evidence that this method of construction can be cost-effective and produce very high quality buildings. We're thrilled to offer this to our clients so they can reap the benefits.
The best features of these homes?
They will be affordable – First, the dimensions of each home lends to cost-effective construction in a factory setting. Second, the products specified to make the homes energy efficient are mainstream, and are competitive (cost-wise) with their less-efficient predecessors.
They will save energy – At least 20-30% more than conventionally built homes, which may meet – but rarely exceed – the minimum requirements of the International Energy Conservation Code (IECC).
They will be really comfortable – We've design each one with the 4 factors of comfort in mind.
Due to the holistic design approach, the result will be a well-designed building whose components are well-suited to work together as a system. This contributes to higher performance, maximum comfort and just an all-around better living experience.
We're looking forward to offering these little gems soon, and hope to see a continued trend in affordable, efficient, comfortable living!
Here's to a happy and healthy life!