Falling Electricity Rates, Bill Tracking, and Energy Efficiency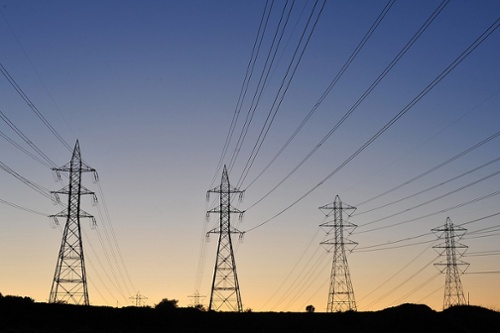 Like many energy geeks, I track my electricity usage and costs. I've been doing it for decades. (Unlike Danny Orlando, however, I haven't stayed in the same house and watched as the home energy improvements kept lowering that usage.) One thing I've noticed in the past few months is that the electricity rate I pay to Georgia Power has dropped significantly. Yesterday, the US Energy Information Administration (EIA) confirmed that falling electricity rates is a (mostly) national trend.
Falling rates
Here's a graph from the EIA article that shows the magnitude of the drop.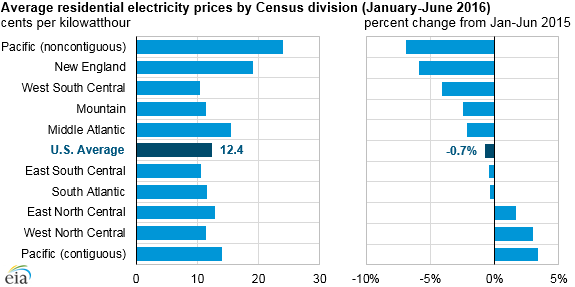 The announcement from the EIA may have been a surprise to some people but it wasn't to me. Each month when my electricity bill arrives, I enter the new data into my spreadsheet. My main interest is in how my total bill and electricity consumption change over time. I also track the rates. Here's what our rate has been doing this year.
We've been at 12 to 13 cents per kilowatt-hour for a while, but suddenly this summer it dropped to 10 cents per kWh. When the rate changes like that, it usually means the fuel costs paid by the utility are changing. The EIA report confirms that indeed, natural gas prices were lower in the first half of this year. Hence the reduction in rate.
The EIA report also predicts the price of natural gas will be higher for the rest of 2016 and in 2017 as well. So don't get too comfortable with the lower rates.
Electricity rates, bills, and externalities
In general, I'm not a fan of low rates. I am a fan of low bills, though, since that's what I actually have to pay. Utilities used to make a lot of their decisions based on what they called the Rate Impact Measure (RIM) test. It was a horrible way to decide whether to build new plants or adopt demand side management plans. The latter would almost always lose out to the former because utilities have lots of subsidies and access to cheap capital.
But even low bills create problems. We've gotten a lot better than we were a few decades ago, but our electricity in the US is still pretty dirty. With low electricity bills, there's just not a lot of incentive to improve.
The reason for this is that a lot of the problems get paid for by someone else:
The millions of kids sucking on inhalers because they can't breathe
Taxpayers who cover the subsidies
Building owners who have to repair buildings damaged by air pollution
These external costs often get passed on to others, which is great for electricity rates and bills, not so good for the environment and other parts of the economy.
So, don't let the lower rates stop you from reducing energy use. And with winter approaching, this is a good time to do something. (Just don't follow the conventional advice.)
Related Articles
Electricity Demand and the Duck Curve
Would You Rather Have Low Energy Rates or Low Energy Bills?
How Dirty Is Your State's Electricity?
Photo of power lines by Chris Hunkeler from flickr.com, used under a Creative Commons license.
NOTE: Comments are moderated. Your comment will not appear below until approved.