How to Fix a Leaky, Underinsulated Exterior Wall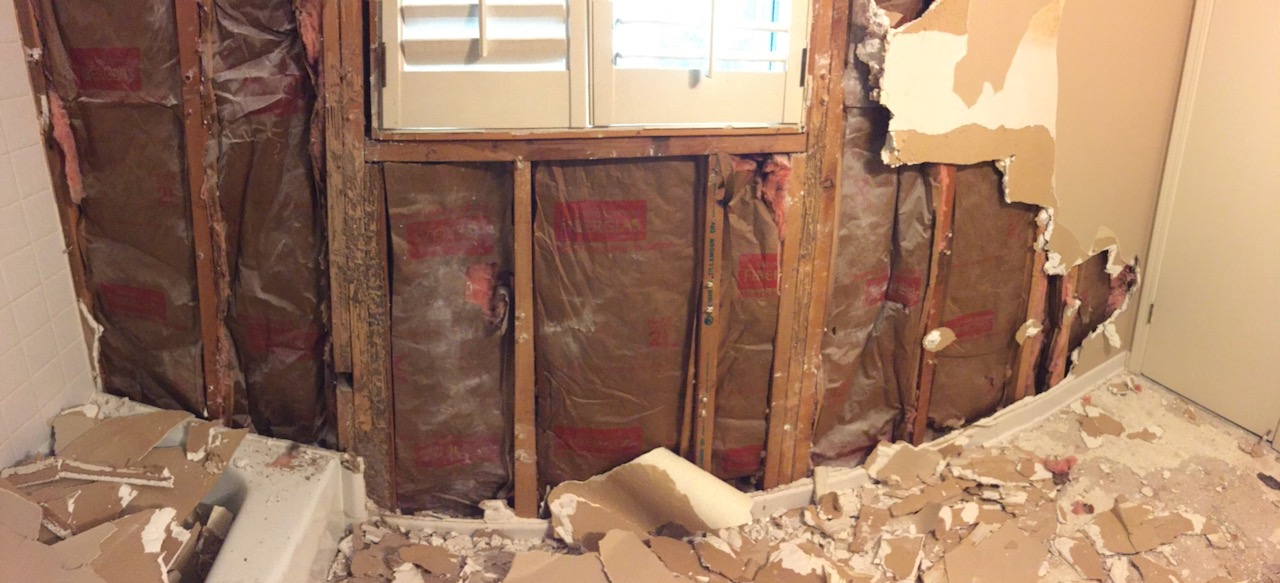 When I began remodeling my master bathroom last month, I found the exterior wall ripe for some serious improvement. It had a number of problems, and I was excited to find them. It was worse than I imagined in some ways. The photo above shows the wall partially opened up.
The problems
Yes, there was insulation behind the bathtub, but as usual, there was no interior sheathing on that section. Here's a list of the problems I found:
Termite damage. The studs on both sides of the window were eaten up and had to be replaced.
Inadequate insulation. The wall had fiberglass batts labeled as R-7.4.
Poorly installed insulation. I'd put a grade 3 on the installation quality of those batts.
Sheathing with a lot of air leakage. The asphalt-impregnated fiberboard sheathing wasn't tight against the framing (photo below). As you can see, there was a lot of air movement in the cavities. (See my previous article on this air leakage.)
Uninsulated band joist. No insulation or air-sealing at all here.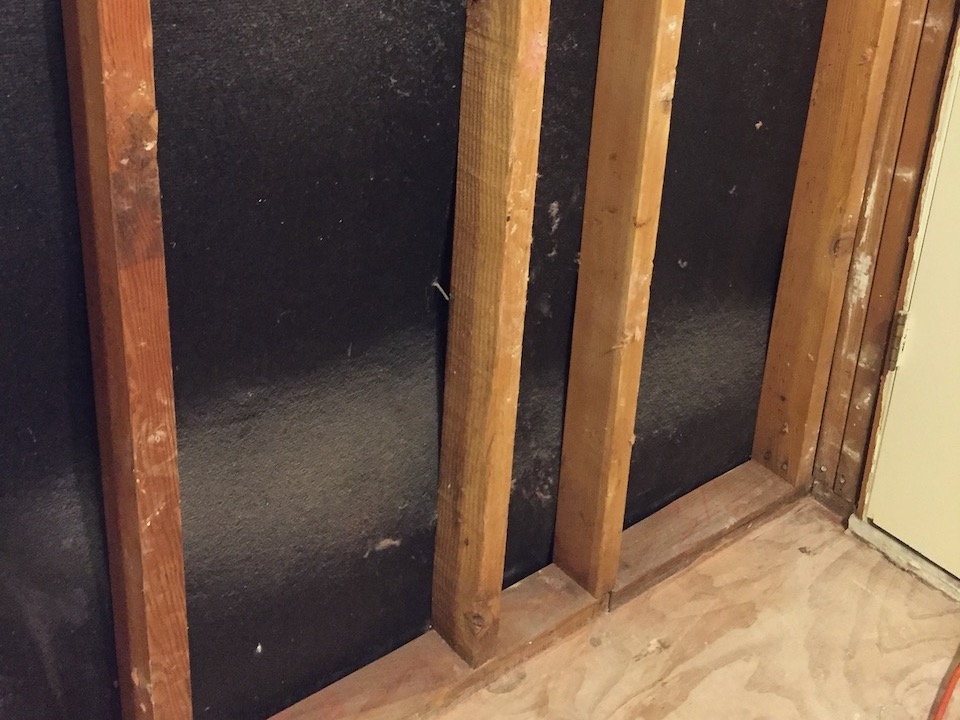 The fix
The photo below shows the approach I took. I couldn't do anything from the outside because of the brick veneer, so my first objective was to eliminate the air leakage pathways in the sheathing. I chose to use the cut-and-cobble method and put extruded polystyrene (XPS) foam board in the back of each cavity. I sealed them into place with one-part spray foam and a professional foam gun. I had to tack most of them into place to hold them there while the foam cured.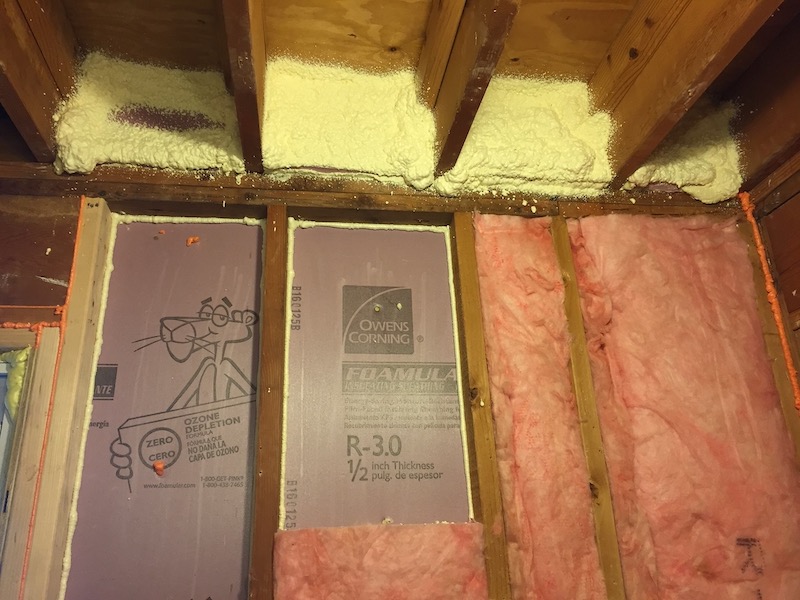 The reason I chose XPS instead of polyisocyanurate is its better drying capability. A half inch of XPS has a vapor permeance of about 2 perms, making it a class 3 vapor retarder. Polyiso, with its foil facing, has a permeance less than 0.2, making it a class 1 vapor retarder.
On top of the XPS, I installed unfaced fiberglass batts. I chose unfaced batts because the kraft paper facing is unnecessary in an above-grade wall in our location (IECC climate zone 3). The paper facing also makes it harder to install the batts well.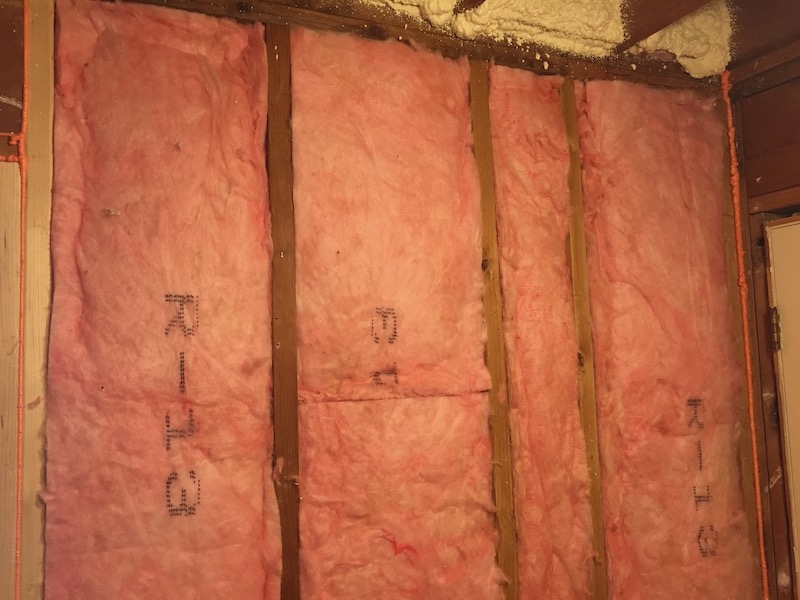 I installed the batts with minimal compression and so they completely filled the cavities. Yes, because of the 1/2″ of XPS in the cavity, they're all compressed a little bit in depth. Because they're friction fit against the studs, there's a little bit of lateral compression as well. I still give myself a grade 1 on the install, though. What do you think?
In the band joist, I used salvaged blocks of XPS held in place with a 2-part spray foam kit. That should cut the air leakage significantly — as well as the spider infiltration. Yes, I found spider webs in those joist bays over our master bath. Who knows how many generations of spiders have lived and died up there?
Some of the products I used here aren't available from the big box stores. I bought both kinds of spray foam and the unfaced batts from my friend Rod MacKenzie at Green Building Resources.
The R-value improvement
I ran the numbers in my series & parallel heat flow spreadsheet. The original wall, with its R-7.4, grade 3 batts, wasn't very good. But it wasn't as bad as it could have been. The Celotex sheathing has an R-value of 1.5. Plywood and OSB come in at about R-0.5, so that extra R-1 of continuous insulation does help.
Here are the numbers for the whole-wall R-value:
Before   R-9.2
After      R-13.9
That's a 50% improvement in the R-value. Not bad.
As I described above, my fix also should cut the air leakage significantly for that section of wall. Unfortunately, I won't be able to quantify that with before-and-after blower door tests. Our owners' association had the floor of our building air-sealed and insulated with spray foam at the same time I was doing this work.
This week I'm working on getting electrical work done, installing my exhaust fan, and then closing up the walls and ceiling with drywall and backerboard as we get ready for the finishes.
Other articles in this series
Air Flow Pathways in a Leaky Bathroom Wall
7 Reasons to Gut Your Bathroom When You Remodel
Installing an Exhaust Fan During a Bathroom Remodel
Related Articles
Air Flow Pathways in a Leaky Bathroom Wall
7 Reasons to Gut Your Bathroom When You Remodel
The Layers and Pathways of Heat Flow in Buildings
NOTE: Comments are moderated. Your comment will not appear below until approved.