Is It Ever Helpful to Use a Powered Attic Ventilator?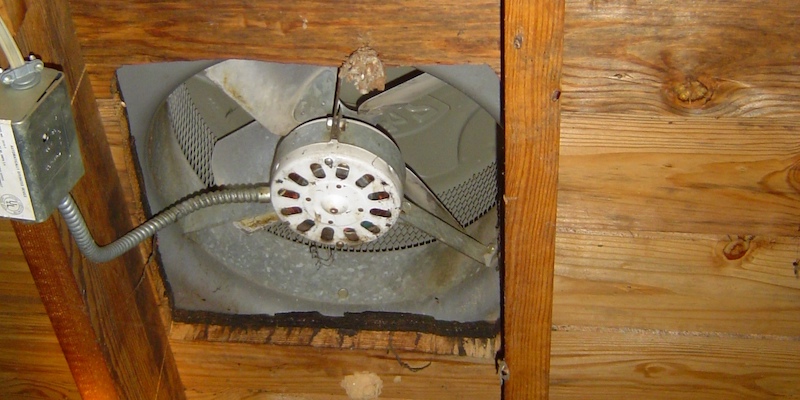 It's time to revisit one of my favorite topics:  the powered attic ventilator.  Ten years ago I wrote an article titled Don't Let Your Attic Suck – Powered Attic Ventilators Are a Bad Idea.  It's got 169 comments and would probably have over a thousand if spammers didn't force me to close comments on older articles.  In 2014, I wrote a followup titled The #1 Reason Powered Attic Ventilators Don't Help.  It's got 103 comments.  Even as old as they are, those two articles have been viewed 15 thousand times already this month.
With the heat wave in the Pacific Northwest this past week, a lot of people are looking for help with cooling.  (If that's mainly what you're looking for here, see the Related Articles section below for some good links.)  Powered attic ventilators seem to be one option they're looking at.   But I also get questions on this topic from time to time, so today I'll explore the issue of whether there's any situation where a powered attic ventilator might be justified.
Recap of powered attic ventilator problems
You can go back and read the previous articles for more details—and he hundreds of comments—but here's a quick rundown of the problems I described.
They pull air from wherever they can get it, including conditioned air from the house.  Consequently, some of that cooling they provide to the attic is from your air conditioner.
They can suck moist, moldy air up into the house from a basement or crawl space.
They can backdraft a water heater, furnace, or boiler.  Backdrafting can lead to incomplete combustion, which can lead to carbon monoxide in the air your breathe.
They're a solution to the wrong problem.  The heat gets into the attic by radiating down from the hot roof deck.  Using a fan to address radiant heating is like thinking you can't get a sunburn on a breezy day.
Oh, and if your goal is to save money on your cooling bill, they probably won't do that either.
Questions from readers
Since the earlier articles are closed for comments, I get questions through email and readers filling out the Contact Us form here on the website.  If you're not immersed in the world of building science, it can be a confusing issue.  You may read through the articles and comments and believe your situation is unique and maybe a powered attic ventilator would be good for your house.  Here are some of the questions I've received from readers about their situations followed by my answers.
The installers of the new HVAC system told us we "may" need to have a thermostatically controlled exhaust fan installed in order to protect the air handler from excessive heat. It's June 11th, 92 deg today, and the temperature in the [attic] crawlspace is already well over 100 deg. May I ask your opinion on this specific instance?
~ Steve W., Pennsylvania
Steve's HVAC company thinks he needs a powered attic ventilator to protect his air conditioner from attic heat.  An unconditioned attic is certainly a bad place to put your heating and cooling system, but a powered attic ventilator will do little to extend its life.  I'm not a big fan of radiant barriers because they're cost effectiveness is marginal, but if an attic air conditioner really needed to be protected from heat, you'd do better to reduce the radiant heat by putting a radiant barrier above the unit.  A powered attic ventilator doesn't address radiant heat and will reduce the attic air temperature only a bit.  The air around the AC will still be hot.
What if a 2nd gable fan was installed that drew air from the outside located at the other end of the home opposite of the gable fan that sucks the air out?
~ Carl S., California
Balancing the air flow into and out of the attic is an attempt to eliminate problem #1 above.  Even if the two fans are moving equal amounts of air into and out of the attic, though, there's no guarantee that the exhaust fan isn't pulling some air from the house and the supply fan isn't pushing some hot attic air into the house.  Air takes the path of least resistance.  In addition, more fans means more electricity use.
We do not have ac so those fans sucking the hard earned cold air out of the house isn't an issue. There is no vapor or reflective barrier on the attic ceiling, just wood and nails. During the day our house stays relatively cool with all the windows closed. But come around 7pm until about 11 it's is hotter inside than out (all windows open now) and from a thermal camera it looks like the attic is dumping stored heat down into the house. Would it be worth it in my case to rig up 3 (or more) of these fans to 3 of the attic gables in my 1,300 sq ft, 1 story home?
~ Nate B., Oregon
What Nate really needs is a fan that will do what's called a night flush.  In dry climates—and yes, the air in the Pacific Northwest is dry on warm summer days—flushing the air out of the house with a fan at nighttime brings in cooler outdoor air and is a great way to cool without air conditioning in that kind of climate.  Don't try it in Houston in the summer unless you want to grow mold in the house.  To do a night flush, though, you want a whole-house fan, not a powered attic ventilator.  You want to cool the house, not the attic.  This one by Tamarack* (photo below) is a modern version that does a good job and won't steal heat from the house in winter.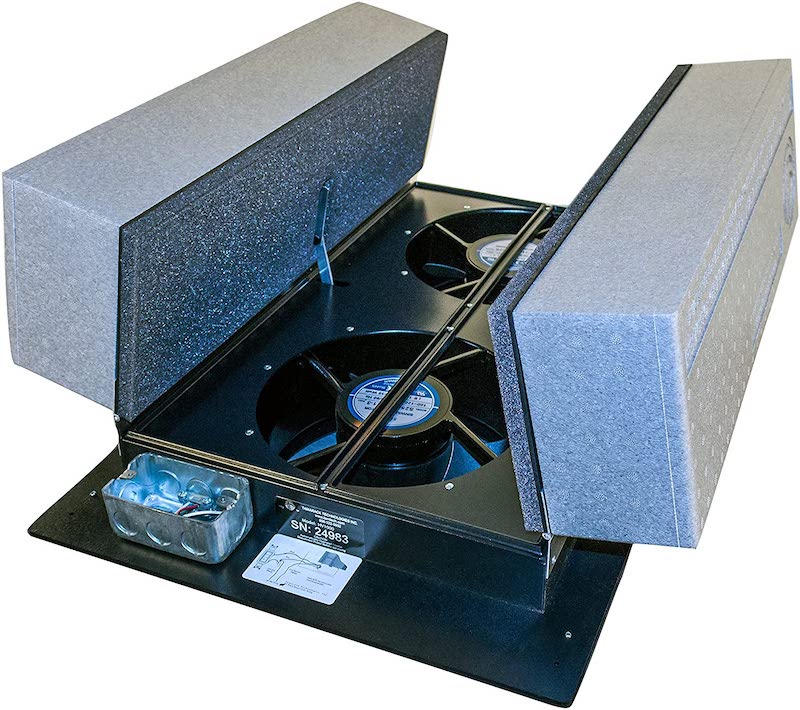 Last week I was replacing some of the screens in the soffit vents and hot air was POURING out of them, and it's not even summer yet! My immediate thought was to install an attic ventilation fans on each end of the house in the exterior walls under one of the gables that are located on opposite ends of the house (the house is laid out like an "H"). I'm reading the explanations you listed for why attic vents aren't a good idea, but in this situation I don't know how else we'd get the hot air out of the attic. We do have insulation in the floor of the attic over the house, but the hot air is trapped up there and it seems like we'd do much better getting it out of there. What are your thoughts?
~ Mark K., Florida
Many people seem to think a hot attic is a bad thing.  It's certainly bad for air conditioners and ducts that might be up there, but it's OK for an attic to be hot.  If that heat is getting into the house, then you need to do more air sealing and insulating.  That applies to poorly sealed and insulated ducts, too.  (I just wrote about what you can do for ducts in an unconditioned attic.)  Unconditioned attics get hot.  It's a fact.  Let it be hot up there.  If it's causing a problem for you down below, there are better solutions than a powered attic ventilator.
The insulation pro is telling me to only add an attic fan (and do not do any additional insulation or touch the old insulation) because adding 14″ of blown insulation is not going to leave enough space in the attic for air flow. I have tried searching the internet but have not had any luck one way or the other about whether or not too much insulation is a bad thing. And there are mixed reviews about an attic fan being a solution. Your article was very informative but I am left with reservations regarding the best choice given the specifics of my attic. I am hoping you are willing to provide a fellow Gator some advice. 😉
~ Erika M., Florida
The best choice, Erika, is not to install a powered attic ventilator. As was the case for your fellow Floridian Mark, it's OK for the attic to be hot. Also, here's another idea that's going to get some readers foaming at the fingers as they type their comments: Even passive attic ventilation doesn't help much. It doesn't extend shingle life. It doesn't save energy in cooling season. It can help with condensation in the attic and ice dams on the roof in cold climates, but Florida doesn't have that problem.
Is it ever helpful to use a powered attic ventilator?
I'll admit right up front that powered attic ventilators are helpful for one thing.  If you don't have air conditioning or natural draft combustion appliances, a powered attic ventilator can keep your attic cooler.  I had someone once tell me that the rubber handles on a wheelchair he stored in the attic stopped melting after he installed one.
But for keeping the house cool, a powered attic ventilator isn't a good idea.  To overcome the problems I listed at the beginning of this article, you'd need a situation where the following are true:
The house doesn't have air conditioning, or the AC is turned off when the attic ventilator runs.
The house has no natural draft water heaters, furnaces, or boilers.
If you don't have air conditioning, why not just use a whole house fan to cool the house instead of trying to cool the attic? I read the questions readers send to me on this topic and keep hoping to find a case where I can say, yeah, you really don't have a better option for keeping your house cool than to put in a powered attic ventilator. I'm still waiting.
Allison Bailes of Atlanta, Georgia, is a speaker, writer, building science consultant, and the founder of Energy Vanguard. He has a PhD in physics and writes the Energy Vanguard Blog. He is also writing a book on building science. You can follow him on Twitter at @EnergyVanguard.
* This is an Amazon Associate link. You pay the same price you would pay normally, but Energy Vanguard may make a small commission if you buy after using the link.
Related Articles
Don't Let Your Attic Suck – Power Attic Ventilators Are a Bad Idea
The Best Way to Cool Your Attic
The #1 Reason Power Attic Ventilators Don't Help
9 Uncommon Tips for Keeping Cool with a Struggling Air Conditioner
Simple Steps to Improve Air Conditioner Performance
NOTE: Comments are moderated. Your comment will not appear below until approved.