Little Shop of Duct Design Horrors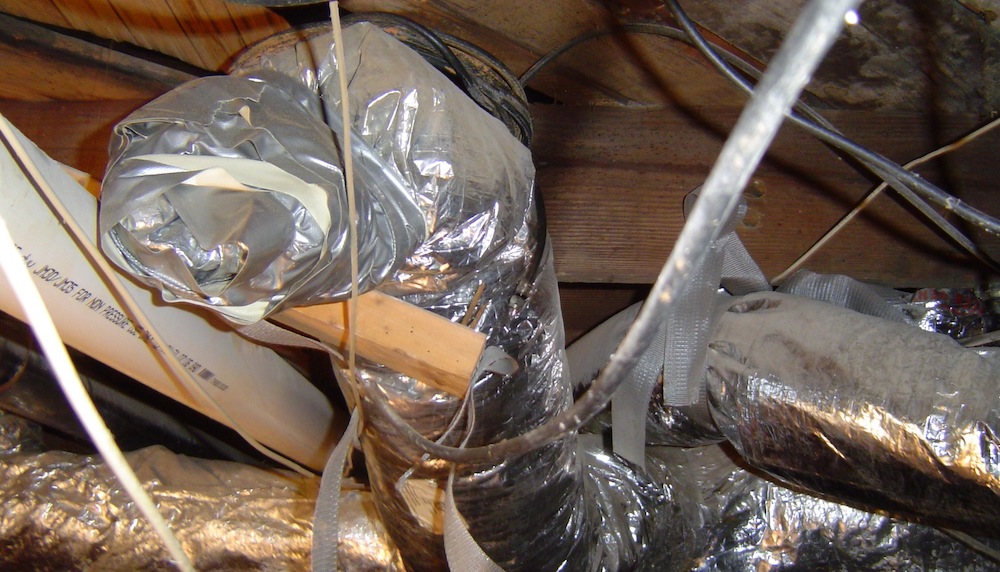 And now for a little Friday fun, here's one of my favorite duct design failures. I call it Stumpy.
What's happened here is that the contractor who retrofitted the duct system just cut this one off mid-run. The problem is that the duct leakage will be high, and the duct will eventually just fall apart completely. Notice they used duct tape on the end to 'seal' it up. Unfortunately, although duct tape is good for many things, sealing ducts is not one of them.
What's wrong with that?
This duct amputee was just the tip of the iceberg in the home's duct system. The limp flex duct hanging over Stumpy's parent was supposed to carry air all the way to the back of the house but was so poorly installed that the master suite stayed uncomfortable most of the time. The leakage in the duct system was, as you might expect, really high (506 cfm25, for you duct testers out there).
It's fine to retrofit a duct system and stop using a run, but the proper way to do that is to cut it off where it first starts, not halfway down the run.  In this home, there were so many problems, the best solution would be just to rip all the ducts out and start over. The first step would be an overall HVAC design that includes Manual J and Manual D calculations and an actual duct design. Imagine that!
Sadly, the unsuspecting homeowners actually paid for this. An HVAC contractor left them this little present.
Allison A. Bailes III, PhD is a speaker, writer, building science consultant, and the founder of Energy Vanguard in Decatur, Georgia. He has a doctorate in physics and writes the Energy Vanguard Blog. He also has a book on building science coming out in the fall of 2022. You can follow him on Twitter at @EnergyVanguard.
Related Articles
What's That Ice Chest Doing in This Attic Duct System?
The Case of the Duct That Wasn't There
Perhaps the Worst HVAC Duct Idea Ever — The Panned Joist Return