A Moisture Mystery Anyone Could Solve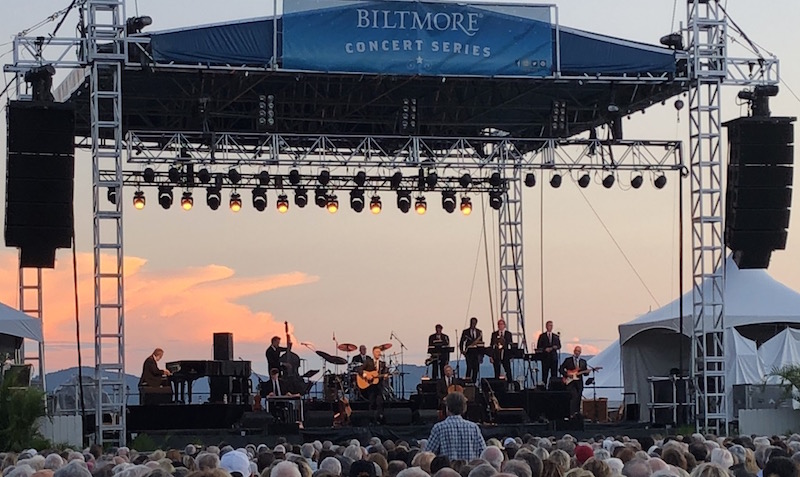 Last weekend my wife and I went to Asheville, North Carolina to hear Lyle Lovett and His Large Band at the Biltmore Estate. It was a wonderful evening! Mountains, sunset, gardens… We even had four planets lined up over the stage: Mars, Saturn, Jupiter, and Venus.
While in Asheville, we spent the night in a room we found on VRBO (Vacation Rentals By Owner). When we got into the room, one wall in the bedroom caught my eye. Here's a section of it: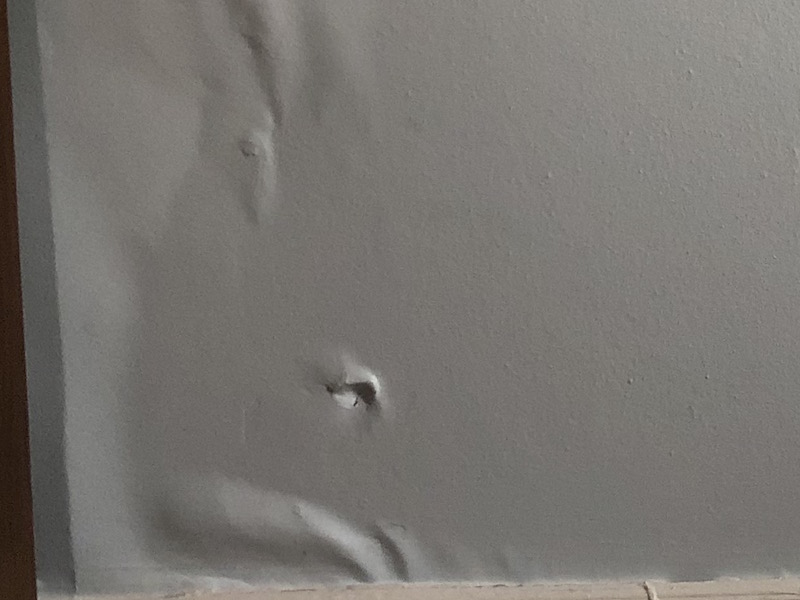 Of course I had to touch it. It was soft and spongy. That hole you see near the baseboard was there when I arrived, but I really did want to rip that drywall away from the studs…at the very end of my stay anyway. Although I didn't detect any mildewy smell, I suspected the other side of that drywall was in full bloom with some nasty microbial infestations.
Clearly, that drywall was full of water. But how did it get wet?
Stepping back a little, I scanned the whole wall. Aha! A window air conditioner.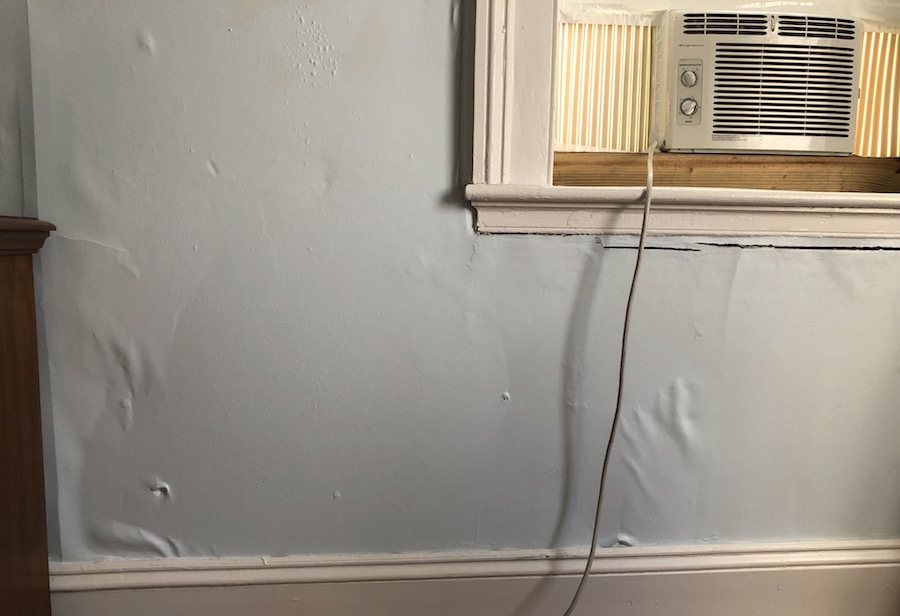 A couple of hypotheses suggested themselves to me. That little AC was keeping the room quite chilly, which means the drywall was chilly, too. The fundamental rule of material wetness, as stated by Bill Rose in his excellent book, Water in Buildings, is that cold materials tend to be wet and warm materials tend to be dry.
My first hypothesis was that the outer part of that wall was connected to the ground and the cold wall was sucking water up through capillary action. It's certainly a reasonable hypothesis.
My second hypothesis was more exciting. Maybe, I thought, outdoor air is getting into that cavity and water vapor from the humid air was adsorbing onto all the surfaces of the porous drywall. The dew point in Asheville was around 70° F, so the moisture is there.
That hypothesis was more exciting because liquid water problems are so common. Plus, if it's water vapor, we can talk about phase changes and psychrometrics.
Alas, when I went outdoors, I found that neither of those two hypotheses was correct. Do you see what's going on here?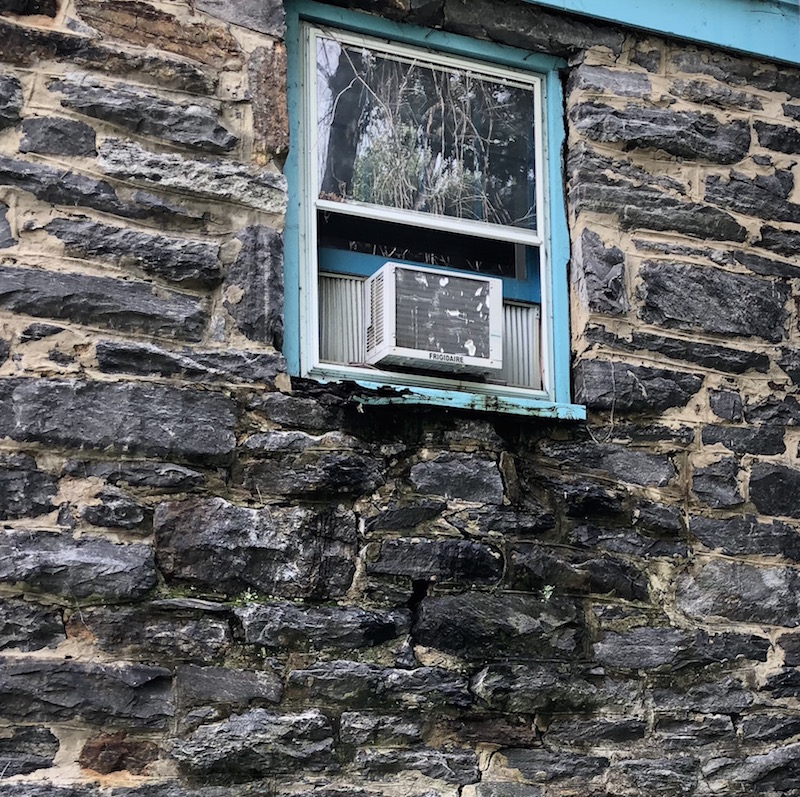 This is a simple problem of the condensate from the air conditioner getting dumped out onto the window sill and getting into everything. The stone below is saturated. The sill is rotten. And I'm sure some of that condensate is draining into the cavity on the other side of the stone, which is how it's getting into that spongy drywall.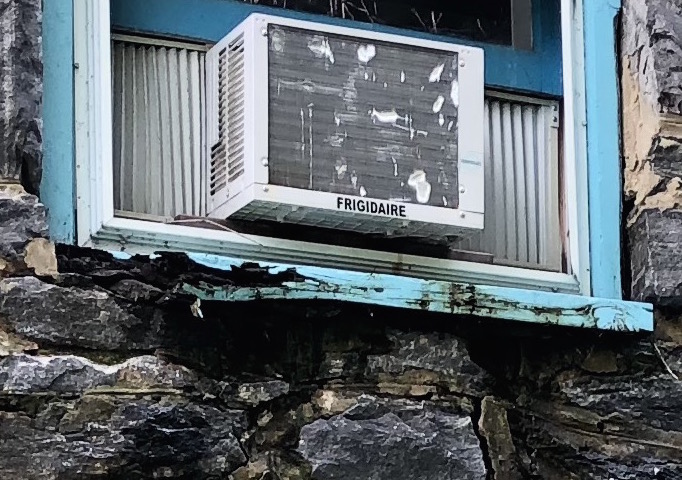 The problem here is easy to solve. It wouldn't be hard to see what's happening. It wouldn't be hard to have avoided it. If they had only run a condensate drain down to the ground, that sill would be fine and the drywall probably would be dry. Of course, there's still a chance that water vapor from outdoor air is playing a role, but the other walls in that chilly room were fine.
Sometimes you can solve moisture problems without knowing the definition of "hygroscopic" or how to use a psychrometric chart or why the sorption isotherms for stone and drywall are different. Sometimes you just need to look at the evidence in front of you. As Yogi Berra said, "You can observe a lot by just watching."
Related Articles
Solving a Crawl Space Water Mystery
4 Ways Moisture Enters a Vented Crawl Space
What's Causing the Moisture Problem in This Trendy Restaurant?
NOTE: Comments are moderated. Your comment will not appear below until approved.