NOLA's Make It Right Homes Go Wrong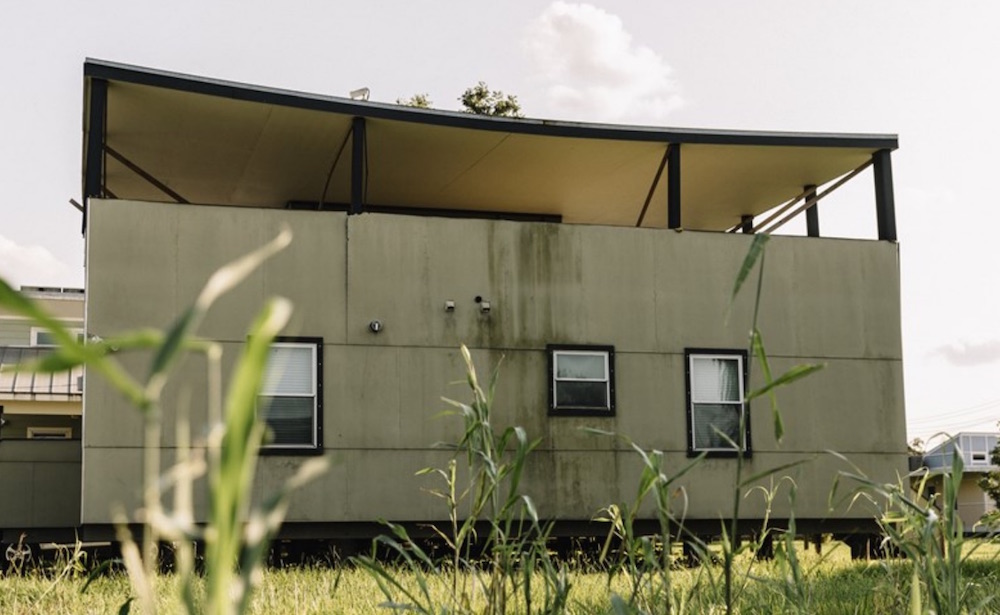 Hurricane Katrina barreled through New Orleans in 2005. The levees failed, flooding 80% of the city and destroying many homes. The low-income residents in the Lower 9th Ward were particularly harmed by the storm, many losing everything they owned. Two years later, Brad Pitt started the Make It Right program. Their objective was to build new homes in the Lower 9th Ward and make it a vibrant neighborhood again.
Fast-forward to 2018. The homes are failing. The owners have moved out of many of them. And the lawsuits have begun. The photo above is from the NBC News article on the failures and the lawsuits.
The number one failure with Make It Right homes
I haven't been there to look at them; nor have I read any forensic analyses of the failures. But looking at the photos and reading about the failures, I think I know what their number one problem was. My guess is that the designers of the homes (starchitects like Frank Gehry and Shigeru Ban) were trying to avoid water problems caused by floods but they forgot about the more common source of water: rain.
According to the NBC article, eighteen of the homes had flat roofs. They have since been replaced with roofs that have some slope. Flat roofs can work and yes, they can even work in New Orleans. Most commercial buildings have flat roofs. But home builders and commercial builders don't build the same way.
The other problem I see with many of the designs is a lack of overhangs. That can result in a lot of water running down the walls. Take a look at that photo above. It's obvious that there's a problem with water running down the wall shown there.
Again, houses with no overhangs can work in New Orleans. But the risk is higher because you're putting more of the responsibility to control the water on the drainage planes and flashing details in the walls. Keep the walls dry with overhangs and porches and those details don't need to be as robust.
As I stated above, the number one problem with these homes appears to be lack of control of rain water. And that reminds me of Canadian building scientist Gus Handegord's famous quote:
The three biggest problems in buildings are water, water, and water.
The effects on occupants
The NBC News article states about the home in the photo above that "the roof deck-topped home…now sits abandoned — mushrooms growing from its split siding, wooden boards propping up its sagging roof." And the residents interviewed for the article told NBC that "many of the Make It Right homes are rotting and dangerous. They complain of mold and collapsing structures, electrical fires and gas leaks."
Those kinds of problems lead not only to a lot of repair costs but can also result in health problems. The article says residents have had headaches, low energy, tremors, respiratory infections and memory loss. Living in homes that get wet enough to grow mushrooms is not a good thing.
An unfortunate failure
I really wanted this project to succeed. The residents of New Orleans had already been walloped by Katrina twice. First, they got hit by the hurricane itself. Then they got screwed by FEMA and "Heckuva Job Brownie." These people needed something good to happen in their lives and Brad Pitt promised that.
Here's their vision statement:
Around the world, people are living in healthy communities and affordable, high-quality, environmentally sustainable homes.
They talked about sustainable, healthy homes and following the Cradle-to-Cradle approach. They wrote a blog article on blower door tests.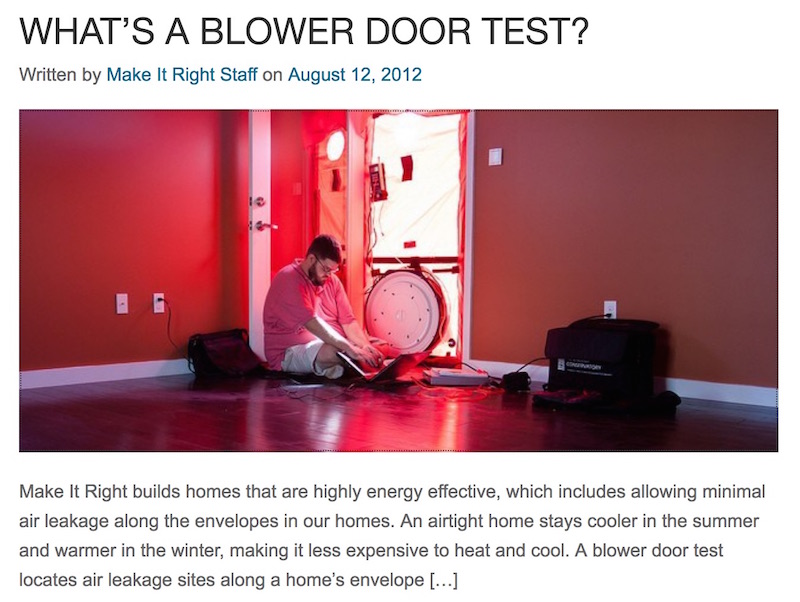 Somewhere in their processes, though, they missed some important building science. Controlling water is the first step in creating durable, sustainable, healthy homes. And there's no good excuse for that. The knowledge has been around for a while.
Before Hurricane Katrina hit Louisiana, Dr. Claudette Reichel undertook the building of a demonstration house at LSU in Baton Rouge, just up the road from New Orleans. She called it LaHouse and brought in Dr. Joe Lstiburek, Wynn White, and other experts. She became known as the Mold Queen and Lstiburek was called Moisture Elvis. The whole goal of LaHouse was to show how to build a house in a hot humid climate like south Louisiana. That meant preventing problems from floods, rain, humidity, termites, and all the rest.
LaHouse is still standing. There's no mold. They have events and classes and tours there all the time. They got it right.
The Make It Right homes are in various states of decay. Residents are moving out. And I wouldn't be surprised if many of the 109 houses get demolished. Given the problems, that may be the cheapest thing to do. All because Make It Right seems to have made them wrong.
Let's hope this isn't how the story ends. Brad Pitt can use this as an opportunity to fix things. He can start over, drawing on the expertise of people who really understand moisture. And forget the starchitects and the fancy designs. Just build nice homes with overhangs and porches that handle moisture appropriately for the climate.
Resources
Dr. Claudette Reichel's presentation slides from the 2017 Building Science Summer Camp (pdf)
Builder's Guide to Hot-Humid Climates
Related Articles
Air Barriers, Vapor Barriers, and Drainage Planes Do Different Jobs
Down and Out Is the Rule for Draining the Rain
Professor John Straube on Moisture Physics
NOTE: Comments are moderated. Your comment will not appear below until approved.