To Heck with Duct Design! Let's Just Throw the Vents Anywhere
You'd think with all the articles I've written about bad duct installations that it'd be hard to find more to write about here. After all, I've told you about stumpy (photo left) and panned joist return ducts and what may be the worst location ever for ducts and the ductopus and…
You'd think with all the articles I've written about bad duct installations that it'd be hard to find more to write about here. After all, I've told you about stumpy (photo left) and panned joist return ducts and what may be the worst location ever for ducts and the ductopus and…
There just seems to be no end, though. The guys who install duct systems in the field are a creative lot, ya know. After writing my article for Monday on supply duct trunk lines that can cause the air to go backwards, I received the photo below from Brad Brinke of ProCraft Inspections. Brad is one of my former HERS rater class students from when I was teaching at Southface, and he was touring some new homes under construction this week when he saw this horror show.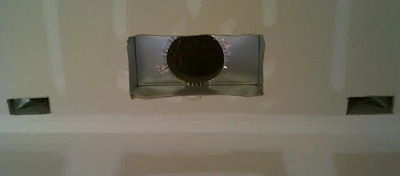 Can you see what the problem is here? If you're not familiar with duct systems, it may not be obvious, but the big vent you see in the middle is a return, which pulls air from the house back to the furnace or air conditioner to be heated or cooled again. Those two smaller vents on the sides are supply vents, which push the conditioned air back into the the house.
Do you think this room is going to get a lot of mixing of the air from the supply vents with the air that's already in the room? Or will much of the newly conditioned air find its way quickly back to that big, honking return vent that's only a foot or so away? Even worse, this configuration is in a vaulted ceiling about 12′ off the floor, meaning that the room below may stay uncomfortable most of the time, especially in winter when the warm air never falls down to where the people are.
If you think your HVAC contractor is going to do it right just because they've been in business a long time, I'd like to suggest that you request full HVAC design to improve your chances of getting a good system—including the ducts—installed. Even better, have a third party (like Energy Vanguard!) do the HVAC design.
Building or remodeling a house and need help with the HVAC and duct system design? We do that.