What Is Home Performance? Part 1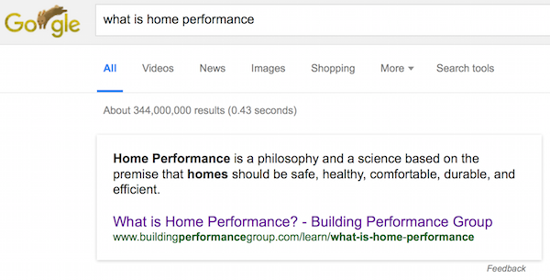 Maybe you're a homeowner investigating how to make your home more comfortable. Maybe you're contractor (HVAC, insulation, remodeling…) looking to grow. Or maybe you're an artist looking for the latest trends in performance art. However you got here, I'll see if I can help you understand what this term "home performance" really means. In part 1, I'll cover the big picture. In part 2, I'll give an overview of the home performance process.
The big picture of home performance
Naturally, you might go to Google (or But-It's-Not-Google for some of you) for the answer. When I typed the question in this morning, I found the definition above from my friend Eric George's company website. That gives us a great starting point.
A philosophy and a science. Yes, it's all that. It's the philosophy that modern buildings should work well. It's a belief that buildings should provide more than a bit of relief from the rain and wind. It's the ideology of systems thinking, knowing that the various components in a building interact with each other, and not always in a good way. A house is a system!
Home performance is based on building science. Building science is based on physics. Physics is the foundation for all science. You don't have to be able to solve Schrödinger's equation to understand the physics behind home performance, though.
You have to know about controlling the flow of heat, air, and moisture. You have to know that you fix the building enclosure first, before attacking the heating and air conditioning systems (most of the time).
The results of home performance. The list above claims that homes should be "safe, healthy, comfortable, durable, and efficient." That pretty much sums up the aims of home performance. And that list has them all in the right order, too.
Homes should be safe, above all. What good is it to reduce your energy bills if you end up getting poisoned by carbon monoxide from the water heater?
A healthful home results from understanding the flows of heat, air, and moisture. A home performance pro knows, for example, that moist air should be kept away from cold surfaces to prevent mold from growing.
You can save energy by turning your thermostat down to 55° F, but unless you're a Vermonter, you probably won't find that comfortable. But home performance pros know that comfort is about more than the indoor air temperature.
Another benefit of controlling the flows of heat, air, and moisture is the enhanced durability of the home. And that mostly comes down to moisture management because, as the Canadian building scientist Gus Handegord said, "The three biggest problems in buildings are water, water, and water."
Finally, when you get all the stuff above done right, you also end up with a house that's energy efficient. Why? Because when you control the flows of heat and air, the home doesn't lose as much heat in winter or gain as much in summer.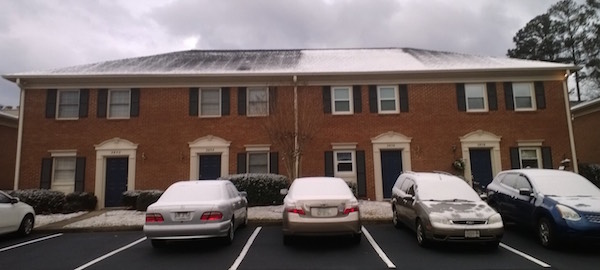 When it all comes together, you'll notice the difference. The photo above shows one townhome in a building that got a home performance makeover by PV Heating and Air here in Atlanta. I think you can tell which one it was, right? (Here's more about that project.)
The best conference on home performance
That would be the ACI National Home Performance Conference & Trade Show. This year it's going to be in Austin, Texas. Many of the best in the home performance business will b there: Dick Kornbluth, Linda Wigington, Bruce Manclark, Amanda Hatherly, Peter Troast, and many more. You don't want to miss it.
I'm presenting twice this year. On Monday, 4 April, I'm doing a bit in what's called the New Improved Speed Dating Technology, but it's really all about training. I'll be discussing, What We Can Learn from Brain Research to Improve Training. That's one of the other kinds of BS (brain science, in this case) I like.
My other presentation is with my friend Kristof Irwin. We're going to cover, Mechanical Systems for Partial-Load Performance & Moisture Control in Humid Climates. Kristof is a smart guy and knows a lot about this.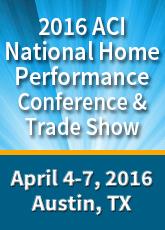 You'll be there, won't you?
Related Articles
How to Choose a Company to Do a Home Energy Audit
Be a Controlling Building Enclosure Control Freak with Control Layers
Stockton Project Demonstrates Huge Home Energy Savings
NOTE: Comments are moderated. Your comment will not appear below until approved.