Energy Vanguard President Appointed to RESNET Quality Assurance Committee
Allison Bailes, founder and president of Energy Vanguard, received notice this past week that he has been appointed to RESNET's Quality Assurance Committee. RESNET (Residential Energy Services Network) is the non-profit organization that oversees the Home Energy Rating System (HERS), accrediting training and rating providers as well as developing and maintaining the standards for the industry. The QA committee is responsible for maintaining quality throughout the HERS rating process, from certifying raters to completing ratings.
As the HERS industry continues to grow and develop, more quality assurance issues crop up and need to be refined, so this committee's work is critical. Raters and their HERS rating providers bear important responsibilities, such as:
Qualifying homes for the ENERGY STAR new homes label
Helping builders to qualify for the $2000 tax credit for new homes
Third party verification for showing compliance with energy codes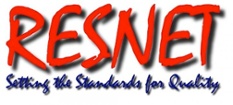 The committee does much of its work through teleconferences and email but also meets annually at the RESNET Building Performance Conference, which will be in Austin, Texas in 2012.