10 Reasons to Buy a Home Energy Audit on Cyber Monday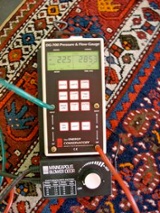 For about the same price as you'd pay for an iPad, you can buy a home energy audit to give to a loved one this holiday season. Yes, the iPad is sexier. Yes, the iPad is more fun. Yes, everyone wants an iPad. (Even one of my most anti-Apple friends has one.)
For about the same price as you'd pay for an iPad, you can buy a home energy audit to give to a loved one this holiday season. Yes, the iPad is sexier. Yes, the iPad is more fun. Yes, everyone wants an iPad. (Even one of my most anti-Apple friends has one.)
But, a home energy audit has a lot of advantages, some obvious and some not so obvious. Here are 10:
A home energy audit can save your life. If your home uses natural gas or propane, the home energy pro you hire may find combustion safety problems, such as a gas oven that produces a lot of carbon monoxide or backdrafting atmospheric combustion appliances.
A home energy audit helps the local economy. The home energy pro you hire won't be in China or India (unless you happen to live in one of those places).
You may qualify for rebates to help cover the cost of the home energy audit and the home energy improvements that follow. Your home energy pro can help with that.
Home energy pros can find problems and opportunities that you might miss — even if you're a devoted reader of the Energy Vanguard blog! They have the equipment (Blower Door, manometer, infrared camera, combustion gas analyzer…) to find problems that might otherwise go unnoticed, like an HVAC system that's starved for air.
You'll find out how your home compares to others. If you suspect your home is bad but aren't sure, get a home energy audit or home energy rating.
Find the air leakage sites that matter. Caulking the windows and doors may help a little, but your home likely has much more leakage hidden above and below.
A home energy audit may prevent you from wasting money on a new high efficiency heating and cooling system when it's really a duct system retrofit you need.
A good home energy audit will help you figure out which improvements will yield the most bang for the buck.
Think that all you need to do is to insulate your attic? A home energy audit may help you make home energy improvements in the right order. If you throw insulation on top of a leaky ceiling, you may be wasting your money.
A home energy pro can help you sort through all the confusing products and claims that you run into about how to improve your home's performance.
Ready to get started? Good! Now you just need to find someone who can do it for you. The first thing you should know about hiring a home energy pro is to find one who's certified as a BPI Building Analyst or RESNET Home Energy Rater. Those are the two main certifications for home energy auditors. Make sure anyone you hire has one or both.
To find someone in your area, do an online search for the term 'energy audit' and the name of your town or city. For example, I'd type in ' energy audit Atlanta.' Some other terms you can try are 'home performance,' 'home performance assesment,' or 'home energy rating.'
Finally, read my article on choosing a home energy auditor:
How to Choose a Company to Do a Home Energy Audit
Who knows? Maybe you'll even get lucky enough to find a company that's giving away chances to win a free iPad when you choose them.