I-Joists, Attached Garages, and the Air Leaks That Poison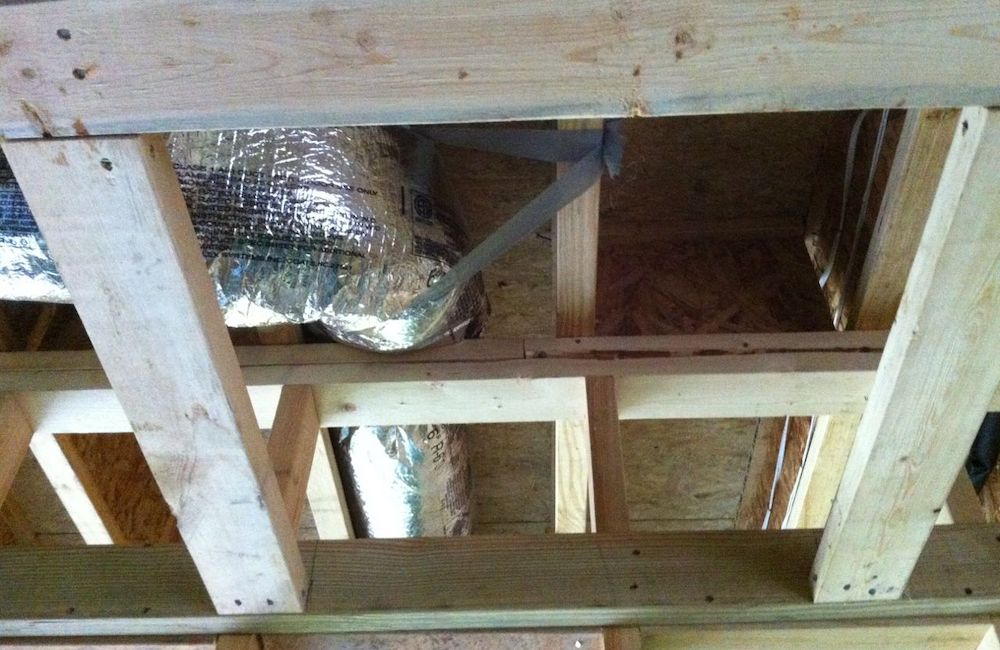 A home with an attached garage is usually a home in which people breathe more carbon monoxide (CO). Of course, having an open carport or detached garage is better for air quality (and a feature that usually gets points for you in green building programs like LEED for Homes and EarthCraft House), but what if you don't want to give up that attached garage?
You can do some things to minimize the amount of CO you breathe, and it starts with air sealing. One place where you really have to pay attention is where the garage's ceiling joists cross the walls into the conditioned space. If the joists run parallel to the building enclosure wall, your job isn't that hard. If the joists are perpendicular to the building enclosure wall, however, you'll have open cavities that have to be blocked and sealed all along the top of that wall.
Look at the photo above. The joists in this home run right across the building enclosure wall between the conditioned space and the attached garage. You can see a flex duct running through one cavity and some blocking in the cavity to the right of where the duct is. (You have to look up at the top because there's also a lowered soffit with extra framing that complicates the photo.) This house is still under construction, and the builder will finish the air sealing.
That duct, however, presents a problem. It's really difficult to seal around a flex duct. A better method to run flex ducts through the building enclosure is to put solid blocking in first, then cut a hole, install a collar, and attach two separate pieces of duct to the two sides. (I'm still waiting to see one done that way so I can get a good photo of that detail. For now, you'll just have to use your imagination.)
Without getting a good rigid air seal there, that cavity is probably going to hurt the results of the Blower Door test. Even if they spray a ton of foam in there to get it sealed up initially, things shift over time. Or maybe the drywall installer will reach in there and push the duct, causing the foam to break loose.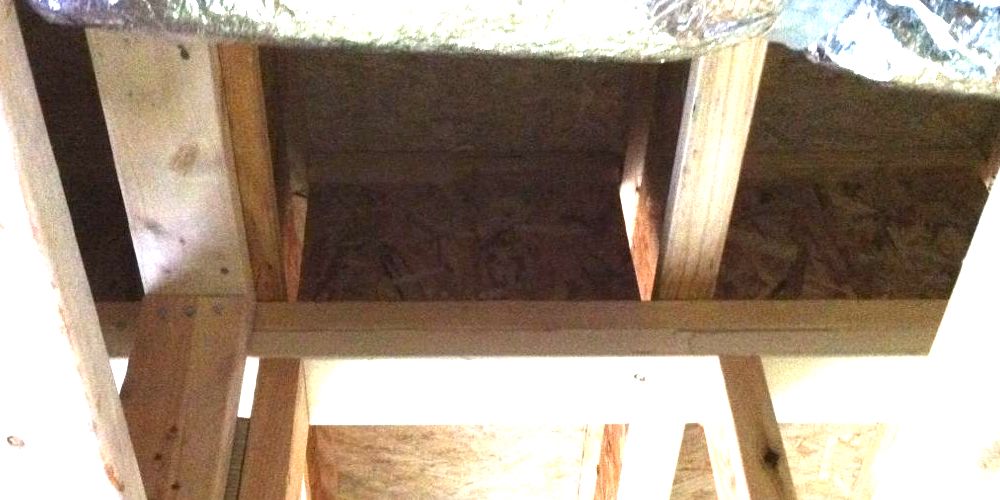 The other problem here is that the joists in this house aren't made of dimensional lumber; they're I-joists. As you can see in the photo above, you have to make sure that you finish the process of air sealing and fill those gaps on the sides of the blocking. It's extra work but very important when you're trying to keep carbon monoxide out of the house.
Defining the building enclosure is critical. The designer and the builder should know exactly where it is and how they're going to handle these types of air sealing details.
Allison A. Bailes III, PhD is a speaker, writer, building science consultant, and the founder of Energy Vanguard in Decatur, Georgia. He has a doctorate in physics and writes the Energy Vanguard Blog. He also has written a book on building science. You can follow him on Twitter at @EnergyVanguard.
Related Articles
Air Barrier Sleuthing – Building Envelope Lessons for DET Verifiers
Comments are closed.