Just Say No to Furnaces in High Performance Homes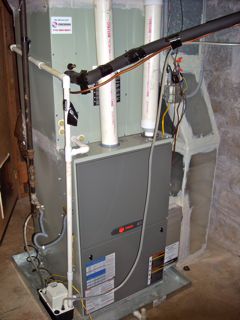 This is the first article of a two-part guest post by David Butler of Optimal Building Systems in Arizona and a frequent commenter in the RESNET BPI group on LinkedIn. I've known David for a couple of years now, and I can attest to his expertise in the field of HVAC. When an HVAC question stumps me, I call on David because he'll most likely know the answer and will explain it in great detail.  If you're a home energy pro, make sure you download and read his paper, The Elephant in the Room.
~~~~~~~~~~~~~~~
Here's an interesting fact: As you add insulation to a home and tighten up the building envelope, the heating load drops much faster than the cooling load. This makes sense because the winter delta-T (temperature difference between inside and out) is much greater, and infiltration rates are typically higher.
This creates a dilemma when sizing a furnace. The furnace must be sized to handle the cooling CFM even if that means selecting a model with several times more heating capacity than the load. In hot climates such as Tucson and Phoenix, it's not unusual to see furnaces oversized by 300%, 400%, or even more.
Unitary equipment manufacturers have shown little interest in adding small capacity furnaces to their model lines. Status quo furnace designs, having changed little over the last couple of decades, are strongly biased toward inefficient homes and cold climates. Often the choices come down to big, bigger, or even bigger. Although this has always been an issue in mild climates, it's becoming a problem in cold regions as homes are built tighter and more efficient.
The new reality: a gas furnace is usually a poor choice for high performance homes. Simply put, gross oversizing causes comfort issues. Homeowners who invest thousands of dollars in a super efficient shell expect their homes to be more comfortable, not less comfortable.
Consider what happens when, on the coldest day, the furnace only runs 15 minutes per hour. Each time the heat cycles off, the house begins to cool from the outside in. The thermostat is necessarily located away from exterior walls and windows, typically in an interior hallway. By the time the thermostat "sees" enough of a temperature change to activate the furnace, perimeter zones may have dropped by 4 or 5 degrees.
There's more. Virtually all modern furnaces have electronic controls that enforce a minimum run time. When a furnace is grossly oversized, the furnace will experience significant overshoot during spring and fall, when peak heating loads may only be a few thousand Btu per hour.
Many dealers push expensive multi-stage variable-speed furnaces for high performance homes to resolve these issues. Multi-stage burners mitigate the capacity issue somewhat, but there are less expensive alternatives that do a better job of capacity matching.
In part 2, I'll make the case for why heat pumps, hydronic forced air systems, and combination systems are ideal for heating high performance homes.
Read Part 2:
Heat Pumps and Hydronics – A Great Team for High Performance Homes
Building or remodeling a house and need help with the HVAC and duct system design? We do that.