The Ductopus or the Centipede - Which HVAC Duct System Is Better?
I've been thinking lately that I might be in danger of losing all my friends in the HVAC business because I've been a bit heavy on showing examples of what they get wrong but not so good at showing what they do well. If you read my article Why Won't the HVAC Industry Do Things Right?, you may recall that in answering the question I didn't place all the blame on HVAC contractors. There's plenty to go around.
Anyway, today I'm going to show you an example of something that I liked when I saw it in a home being built. The photo above shows part of a trunk-and-branch duct system. What you see is the end of a trunk line, which carries the conditioned air from the air handler out to the branches, which distribute it to the rooms in the house. Here's why I like this:
The trunk line is made of rigid sheet metal, not flex duct.
They've kept all the branches a good 6" from the end of the trunk, which helps get better air flow into the branches.
The branches aren't jammed up against each other where they come off the trunk.
The house that I saw this in had some problems (HVAC, insulation, drainage plane...), but I'd much rather see a trunk-and-branch system like this than a radial system the way it's usually installed. Last week I wrote an article asking if flex duct should be banned from green building programs and concluded that I think it's OK when used as shown here - for relatively short branches in a trunk-and-branch system.
Ideally, I'd like to see whatever system gets installed go through a full HVAC design and commissioning process. Every house should have it. ENERGY STAR Version 3 requires it. Building codes require it, too, even if it doesn't get enforced in most places.
But if we go by the 12-step program mantra of progress, not perfection, every time we see a system like the one in the photo above, we should remember that this is progress...because if it looks like that, it doesn't look the what you see below, which we affectionately term the ductopus. And I'm sorry, that system wasn't designed, and it's not going to perform well either.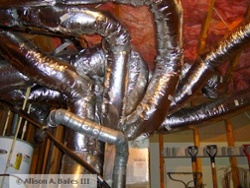 Subscribe to the Energy Vanguard Blog
The Latest from the Energy Vanguard Blog