Duct-Free Zone - The Advantages of Mini-Split Heat Pumps
Last week, (EVER rater and Green Curmudgeon) Carl Seville and I took a trip up to Suwannee, Georgia to visit the Mitsubishi HVAC facility and learn more about their ductless heat pumps. I've mentioned here before that when I get a chance to build a house for myself again, I'd like to eliminate the ducts by using ductless mini-split heat pumps, and Mitsubishi is one of the top brands.
Here's why I want to go ductless:
Duct systems can be done right but almost never are, thus robbing the heating and cooling system of its effectiveness and efficiency.
Duct systems take up a lot of space in attics, basements, and other parts of the house.
HVAC technicians don't understand - and often don't care about - ducts.
Mini-splits are some of the most efficient systems (up to 26 SEER).
Mini-splits come in smaller sizes and can better match the heating and cooling loads in the house.
Mitsubishi's line of residential ductless heat pumps is called the Mr. Slim. It's a split system heat pump, which means that the compressor and condensing coil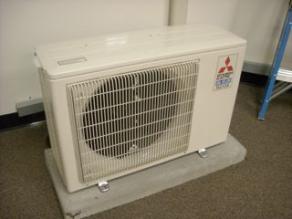 are outdoors, and the evaporator coil and blower are indoors. In that regard, it's like your typical 'central' air conditioner or heat pump. You can tell if a house has a mini-split by looking at the outdoor condensing unit (photo right). They're thinner and smaller than the typical ducted system condensing unit.
The indoor unit can be mounted on a wall, set into the ceiling, or sit on the floor. At the Mitsubishi facility, we saw all three styles, and you can see photos of them below.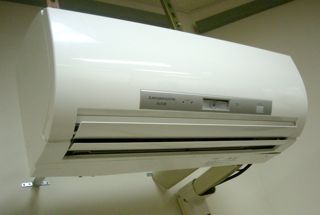 Wall mount (set off from the wall here but mounted flush in a home)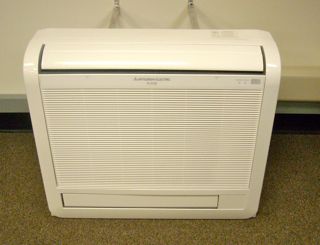 Floor mount (can be recessed into the wall)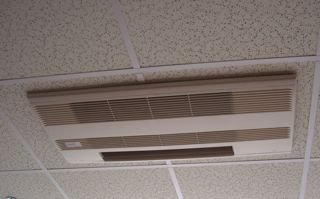 Ceiling cassette
In addition to coming in smaller sizes (down to 6000 Btu/hour, half the minimum size of regular system), mini-split heat pumps can modulate the amount of heating or cooling through variable refrigerant flow (VRF) to match the actual loads in the house, not just the design loads. They're also ideal for zoning a house and limiting the amount of energy you use for heating and cooling.
The knock against mini-splits is that some people find them unattractive. They don't want to have that piece of equipment on their wall, even if it is quiet. Ceiling cassettes are a good alternative. Ducted mini-splits are another, and they allow you to hide the head above a dropped ceiling, for example, and run short ducts for the return and supply air.
Another drawback is that even 6000 Btu/hour is too large for a high performance home that's going to have several heads (the indoor unit). The reason that Mitsubishi does this seems to be for ease of manufacturing. They make as few different evaporator coil sizes as possible.
Even with these weaknesses, the ductless mini-split heat pump is a great idea and, I believe, will increase in popularity because of the many advantages. There's a ductless heat pump project in the Pacific Northwest that promotes and tracks the installation of these systems. I heard about this from Bruce Manclark at the recent ACI conference in San Francisco, and he said they've got a 98% customer satisfaction rate through about 10,000 installations.
What do you think? Is a ductless mini-split heat pump in your future? Or are you gonna stick with this? Or this? Or this? Or this?
Subscribe to the Energy Vanguard Blog
The Latest from the Energy Vanguard Blog