A Day with Professor Straube at the Building Science Experts' Session
Oh, where do I start? Professor John Straube spoke all day yesterday at Building Science Corporation's Experts' Session. His topic was mechanical systems for low-load buildings. You know that expression about how the information comes at you so fast in some classes that it's like drinking from a firehose? With Professor Straube, it's like trying to drink from a tsunami! The guy has not only a phenomenal knowledge but he's also a fantastic teacher and incredibly witty.
There's no way I can give you a good overview of everything he talked about because he really covered the whole gamut of this topic. So, I'll throw out a few morsels of his wisdom here and encourage you to attend one of his workshops if you ever get the chance. You may also get the opportunity some day to buy his book on this topic. Last night Joe Lstiburek and others strongly encouraged him to get this knowledge into a book, and I hope he does.
Mechanical systems for low-load buildings
Building enclosures have improved dramatically in the past two decades. We have more insulation, better windows, and sealed air barriers. Many homes have peak heating loads of 15 to 30 thousand BTU per hour (kBTU/hr)--even in cold climates. Yet most heating equipment available doesn't go that low in capacity. About the smallest furnace you can get is 40 kBTU/hr.
Professor Straube mentioned that he's been talking with HVAC equipment manufacturers about this for about a decade, and they just don't get it. Carrier and Trane, he said, have told him they don't sell low capacity equipment because no one's buying it. They failed to see that if the equipment is not available, no one can buy it so of course they're not buying it because it's not available. Evidently those discussions haven't turned the corner yet.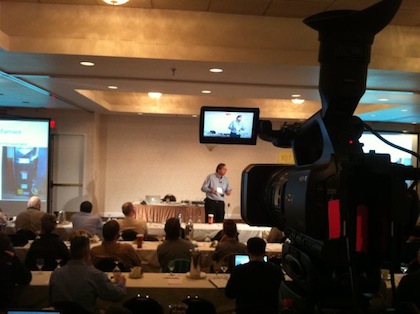 Straube covered a lot of ground in his presentation. After introducing the need for low-capacity  mechanical systems and the lack of conventional equipment, he dove into the details of the different systems available, how they work, what some of the limitations are, and how difficult it is to do it right.
One of the big obstacles is cost. "We're beyond talking about saving money on equipment for low-load houses," he said, because they don't. If you're a spray foam contractor, for example, trying to get builders to bite on the higher cost of foam because of savings they'll see from smaller mechanical systems, it's not gonna happen.
You can get a 46 kBTU/hr 95 AFUE furnace for $697. If you want something with less capacity, you could go for a boiler, tankless water heater, or mini-split heat pump, all of which are significantly higher in cost. Same is true of air conditioners. When you go from a 2 ton system to a 1.5 ton system, it costs more and is less efficient, too. So if you want a low-load building to have a low-capacity mechanical system, get used to higher cost.
In the first half of the day, Straube went through some of the basics of efficiency ratings (SEER, EER, and COP), details about condensing boilers and furnaces, and combo systems (using one system to provide heat and domestic hot water). He talked about some of the problems with condensing systems and the temperature of the entering water or air. (See photo of his slide on this below.)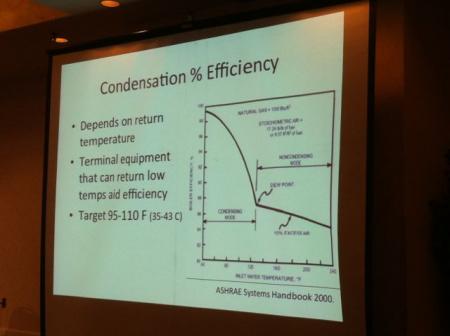 After lunch, the discussion turned to heat pumps, both conventional, ground source, and mini-splits. He blasted the idea of using desuperheaters on ground-source heat pumps to get hot water because they're usually not very cost-effective and don't give you much hot water. Ground-source heat pumps work well in school-sized buildings, he said, but not so well for low-load buildings or really big buildings. He also said that he has not seen any third party data on GSHP efficiency showing a COP higher than about 3. Since the industry doesn't include pump or blower energy in their COP calculations, their numbers are higher but don't give the complete picture.
Since the topic was mechanical systems, there was also a lot of talk about water heating. Combo systems give you both heat and hot water, and some people use water heaters just for space heating, too. Straube mentioned that HVAC and DHW need to come together.
Looking back over my notes now, I still can't believe how much material he covered. It really was a tsunami of information. I won't go into the details, but here are a few more topics he hit upon:
Chillers
CO2 refrigerant air-to-water heat pumps, which allow true hot water production because they can get higher temperatures
Electric resistance heat - OK in some cases for low-load buildings
Pellet stoves and boilers
Dehumidification
Legionnaire's disease
Heat pump water heaters
Distribution of thermal energy - air, water, radiant
There was a ton of information thrown at us yesterday.
The wit of Professor Straube
Here are a few of the many witticisms we were treated to yesterday:
Caveat Emptor is Latin for, "You're gonna get screwed."
Cats are IAQ problems and you'd have to pass them through the HRV to solve that problem. But they're not really a cat anymore after that.
Recirculating range hoods don't solve the IAQ problem. It's like a recirculating toilet. The stuff just goes round and round and never leaves.
In San Francisco, it never gets really hot or really cold. Buildings are there mainly to keep people away from your stuff.
It's taken America 10 years to realize that tankless water heaters work better with tanks.
If you ever get a chance to go to one of his talks, I guarantee you won't have any trouble staying awake and engaged.
A great reason to be a GBA Pro!
Not everyone can take the time to go off to New England for two days to attend a session like this. The good news is that many people watched the whole thing from their home or office because Green Building Advisor ran a livecast of the sessions. Anyone could have signed up through Building Science Corporation for the regular fee of $395 per day. GBA Pro members, however, got access to the livecast as part of their membership. What a deal! They'll also be posting some of the videos for GBA Pro members later on, so you'll still be able to log in and watch at least part of the sessions there.
Today I head back to Atlanta after a great week up here in New England. The Experts' Session was well worth it, and last night I got to make a little video with the inventor of the Turbo-Thermo Encabulator Max, Dr. Joe Lstiburek. [11/16/14. Here's the link: Interview with the Inventor of the Turbo Thermo-Encabulator Max.]
Related Articles
Highlights from Joe Lstiburek's 2012 Experts' Session on Spray Foam
Why Is Air Conditioner Capacity Measured in Tons?
Does a Geothermal Heat Pump Count as a Renewable Energy Source?

Subscribe to the Energy Vanguard Blog
The Latest from the Energy Vanguard Blog